Hi again!
Now, for all you have been waiting for, the true life adventures of your favorite Virgin Whisperer, I am here to spill it all on our newest virgin; Mirelle Gathieu.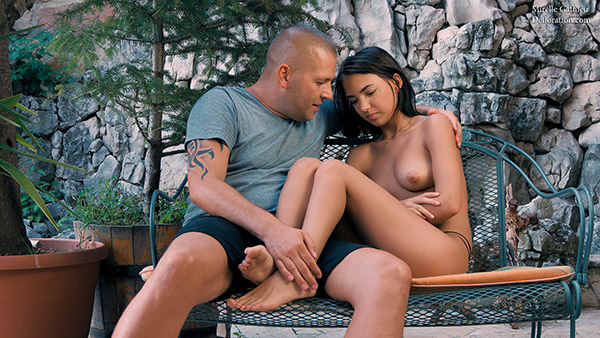 Mirelle came to us, a sweet little French girl who had just turned 18, or so you would think.  She was sweet, she was little, she was French, but she was not innocent, she was a tiger!  OMFG!  There are virgins and then there was Mirelle and Mirelle knew exactly what she wanted!

I was there, in the background watching Mirelle as she did her solo video and by the time Sergey was through, I was ready to go!  She played the virgin part perfectly; she was shy, she wasn't very comfortable with showing off her beautiful body and when she made herself cum, I knew that she was not very experienced in the area of sex. But there was fire brewing behind those great big doe eyes of hers and I could not wait to get her underneath me as I took the gift of her virginity.
It was a beautiful day in Budapest; still a little too warm for my taste but none the less, the sun was warm and there was a nice breeze and Mirelle was game to shoot outside, so we took the cameras and the lights and headed in search of the best place to shoot.  Mirelle was timid and started clinging to me.  Her fear was palpable and I could see her heart rate increase through the pulse in her neck.  I gently leaned over her an kissed the part of her neck where her stress was evident and as I felt her melt into me, I knew this was going to be a special virgin.
Mirelle was French and her mother was Hungarian so it was easy to communicate with her.  Sometimes the language barrier is too great and Sergey must translate for us; but the best virgins are the ones who communicate with me both physically and verbally; Mirelle was no exception to that rule.  We were communicating physically long before Sergey's cameras started rolling and her responses to my little touches set my motor running.
I found a lounge set out on the back patio and sat down with her in my lap.  She snuggled down as if she were cold and in that moment I wanted to protect her; I wanted to make her mine and hide the big bad adult world from her.  Sergey noticed that Mirelle and I were getting comfortable, so we just started filming with no big fanfare; it was fluid and it was natural.  Mirelle, while still timid, she was warming up to me and I didn't want anything to disturb this bond we were creating.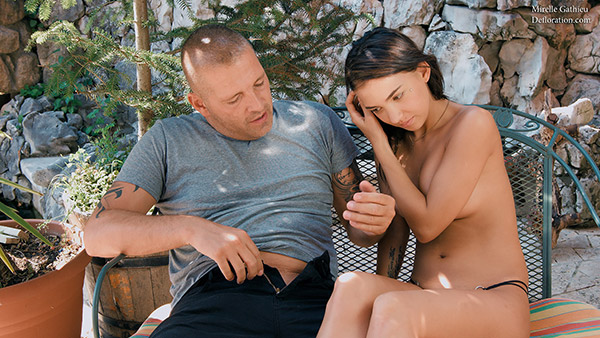 As you will see in the video, filming commenced as usual, with the standard formula of questions and answers, me kissing her; her velvet tongue connecting shyly with mine, her little tell-tale breaths indicating her mounting arousal, her demonstrating her virginity for the camera, the goosebumps forming on her skin, not from the weather or the breeze, but the bumps that come from a young girl, not afraid of what is going to happen, but the bumps of keen excitement of what she is doing and in thoughts of what pleasures are to come.  And they were all there, just for me.
Of course, I introduced her to my buddy.  I just love the look of shock and awe as a young virgin struggles to reconcile just exactly how my buddy is going to fit into her tight virgin vagina.  I love it when a virgin tentatively touches my hard shaft as it pulses with heat and desire and looks down at her pussy and her eyes grow big with shock at the thoughts of my cock in her pussy.  What a fucking rush!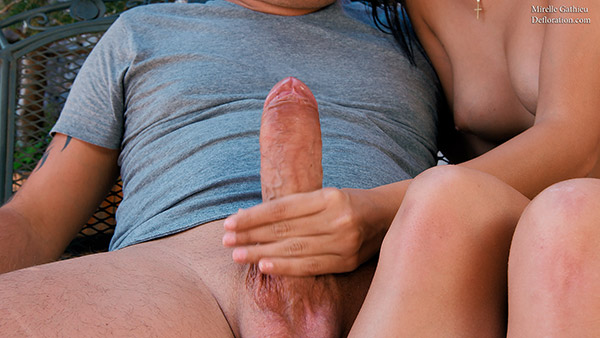 I also love the hesitant licks that come from a virgin's mouth as she has her first taste of my cock. I love the tremors that come off her hot little hands as they first take hold of my cock, not sure what to expect or feel; but always surprised at the heat that rolls off my cock and the soft silky skin that surrounds it.  With some virgins, the first time they take me in their mouth, it's nice, but with Mirelle, wow!  More than nice.  Fucking fantastic!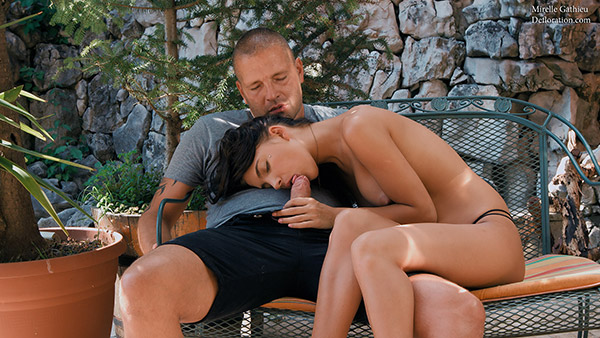 He warm moist mouth surrounded my thick head and when I leaked that first drop of pre-cum, she leaped it upon swallowed.  Her movements were neither practiced or routine and soon my head was spinning with the multitude of sensations her mouth was bathing my cock with.  Her warm fluid mixed with the breeze as she took her quick breaths were the perfect portions of hot and cold; ying and yang a most erotic calculations of different temperature sensations and soon, I could not handle it anymore. I had to be in her pussy; I couldn't wait any longer or I was going to shoot my wad before I even got into her pussy.
Sadly, I didn't prepare her as much as I would have liked to, but her pussy was calling my name and I was not going to ignore he siren's call.

Mirelle, however, was ready for me and in quick order my cock blasted through her tight virgin hymen and found its way home.  I hit the head of her cervix and I felt her entire pussy shudder around me.  I pulled out a little and as I started to slide back in, here pussy grabbed hold of me and pulled me back in.  Slide and pull, slide and pull, we set out for a rhythm that was increasing my pleasure and while she still cried out in pain at my hard throbbing cock sliding in and out of her newly no longer a virgin cunt; her body as telling me that she was really beginning to enjoy her first fucking.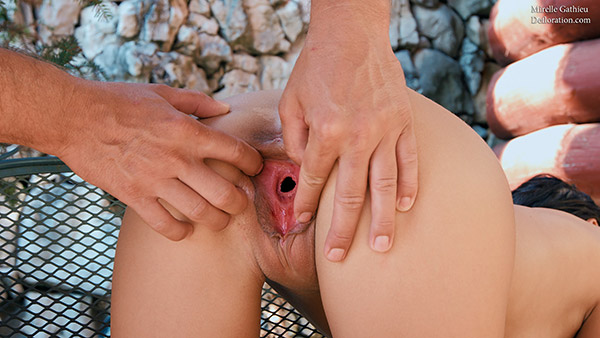 I suggested trying another pose and she seemed a little bit reluctant as I think she was quite convinced that this was going to continue to hurt her, no matter what position we were in.  I nustled against her neck and told her to try it and I promised that it would no longer hurt her.  It was then she saw her virgin blood and she became curious with it.  I gave her a moment for the realization of what she had done to sink in and then I whispered to her to quickly sit on my cock and it would feel so good to her.  She quickly impaled herself and then began to move.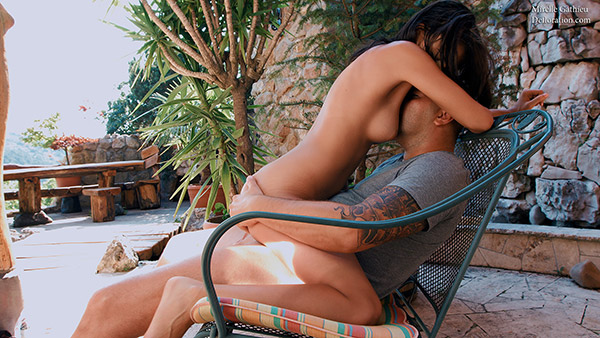 Her transformation from timid virgin to French siren was immediate.  Her pain disappeared and he sexual wizardry began.  Her tight pussy still was holding my cock in that warm and now welcoming canal, she was moving up and down and all around and I was caught up in her movements and the evidence of her pleasure and I knew the time was fast approaching when I would have to pull out of her and cum a she had not given me permission to cum in her sweet pussy and before I could even recognize the signs, I was pulling out and I came so fucking hard my baby butter flew across her body and hit her in the shoulder. That was an epic orgasm, one of a younger man and Mirelle was not quite sure what had hit her.  I told her it was my seed, the butter from where babies are made and it quite startled her. Mirelle was no longer a virgin; she was now a siren of which wet dreams are made of; a tight virgin pussy, generous boobs and a very responsive pussy.  A virgin, nonetheless.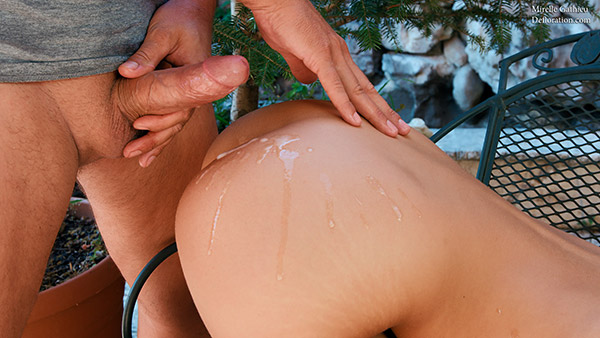 There will always be virgins for me to deflower, after all, it is why they call me, The Virgin Whisperer. And then there will be Mirelle, a virgin who transformed into a woman in one short afternoon.
Laters, Baby!
Full lenght HD video available here: www.defloration.com 
Tommy