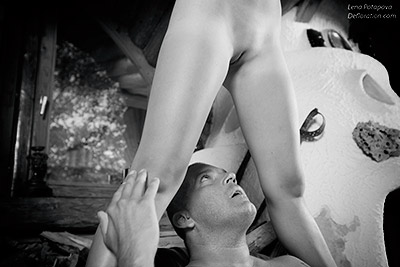 Allow me to introduce myself. I am Tommy and I am a porn star. I started my career almost 20 years ago at the urging of a girlfriend. She thought my dick was magnificent, and me, being a full blooded male, okay, make that full blooded and horny male, thought why not get paid doing what I love to do best and that is to fuck women! I gave it a go, found myself an agent, made my first film and I've been fucking my way through beautiful women ever since. This career path made perfect sense for me and I have never regretted it. So, about 10 years ago, my agent sent me out on a job to be filmed deflowering a virgin. At the time, I thought that deflowering a virgin was a great idea for a scene and I was wondering which professional actress I would be working with. When I arrived at the studio, I discovered that this wasn't just any scene, this was an actual job, deflowering an actual virgin in front of the camera. I was so enthralled with the concept I became instantly excited and my dick was hard, hours before we were to start filming, and a little bit intimidated because I couldn't remember having ever deflowered a virgin!
The fact is, I think I was just as nervous as the girl, but I had it on great
authority that I was a magnificent fuck so I went with it. My first experience with this virgin was indescribable and when I finished the job, I was anxious and excited to deflower the next virgin, and the one after that and since then I've enjoyed pleasing hundreds of virgins. I continued to make films through my agent and have fucked so many beautiful women in so many exotic locations in just about every way possible that my career has flourished and not only do I consistently place in the top 10 of porn stars, I am now known as The Virgin Whisperer. 20 years ago, I could never have imagined that my life would turn out this way, but I am glad it has! So, 10 years later I continue to work with the web-site that produced my very first virgin experience, defloration.com . I love my job, but nothing trumps the experience of taking a young girl's virginity. These virgins come to the studio for several reasons. One reason is that this is their debut into the adult entertainment business and they want to memorialize this experience on film as an audition tape. I have had the fortune of working again with many of the virgins that I have deflowered and I always remember how special their first experience was for them and for me as well. I am actually quite proud that I played such an integral part in their professional careers.
Another reason girls come to the studios at defloration.com is to loose their
virginity and memorialize this grand event in their life on film and with a
trusted professional. I sometimes see them on the street, now happily married
and pushing a pram with a young child. It makes my heart beat a little bit
faster that they have found their happily ever after and that I sent them on to
their happiness as a more confident woman. And yet another reason these girls come to defloration.com is that they are afraid of losing their virginity in the back seat of the car or in the bathroom of a discotheque by the hands of an anonymous, clumsy teenager.
So, here I am 10 years after my very first virgin and making it my avocation in
life to give every virgin, regardless of their motivation, the very best first
sexual experience. And, I get paid for it! But there have been some virgins that have been so spectacular, I would have done it for free! You need to understand that at the very base of my psyche is that I love beautiful women. I have fucked big women and tiny women, short women and tall women, hot tight pussies and some pussies, not so hot and tight. But I have loved every single experience, because I see beauty in all women. Each woman I have fucked is beautiful in her own right. And each one has provided me with wonderful and erotic memories. In this blog I will share with you the erotic adventures I will have with new virgins as well as reminisce about some of my favorite defloration experiences.
Aside from loving women, It truly is a special experience for me to deflower a
virgin for defloration.com. There is nothing like a virgin. First, they smell so good, so fresh, co clean, so pure; like clean linens and spring air in a garden meadow. I've become very adept at being able to scent a virgin in the air when I am out on the town and it sends such a message to my cock, that I am painfully hard within seconds of my nose having sensed one. And as much as I want to chase that vision of perfection and push her up against a wall, finger her until her juices have drenched the floor and then give her the best fucking of her life, I exercise extreme control and save her for defloration.com. Yes, if I come across a
virgin, I make sure she knows how to contact defloration.com. And then I tell
her with a wink and a smirk, "Babe, I can't wait for you to come all over my
cock."
A virgin's skin is so soft and velvety, a perfect complement to the velvet
texture of my erection. I love to take my fingers and lightly stroke from their
beautiful, long necks to their pert breasts as I watch the goosebumps rise on
their skin and their nipples pebble in anticipation of my further touch and my
lips, wet with desire for them as I lean in to suckle on their neck and then
pull their nipples into my mouth. I love the way it feels when their backs arch
as they push their breasts further into my mouth. By this time, my dick is
jumping in my pants and I can't wait to sink myself balls deep into that hot,
tight virgin pussy.
But, I am a man, now, not a clumsy teenager and the needs of a young virgin are
more important to me than relieving my hardness.
So, I continue my onslaught, bound and determined to give her so much pleasure
before I take her virginity that she wants, no that she needs my dick in her as
much as I need to put my dick in her virgin pussy.
It takes tremendous control on my part as I slowly peel away her panties and
begin to explore her pussy lips as they begin to puff up, some for the very
first time. My nose begins to scent her arousal as I gently massage her tight
little button, increasing my frequency and pressure as her juices begin to fall
like gentle rain in the spring. I love how I can feel her approaching orgasm as
her nipples become even harder and how her tummy trembles under my large hand
and then how her trembling subsides as I gently continue to stroke her and
gently bring her down from what for many virgins, is her very first orgasm.
With her first orgasm complete, I continue to give her pleasure with my talented
tongue on her now very puffed up pussy lips. I expose her love button by gently
pulling on her lips and I give it a little kiss, tentative at first, then with
more strength as I continue, lapping up those sweet virgin juices as they drip
down my chin as I attempt to capture them all. So, sweet, so delicious and you
will only taste virgin juices one time and I consider myself fucking lucky to be
able to drink of this nectar as defloration.com films this special event for its
clients. My only regret is that while my tongue is giving her yet another
orgasm, I can't finger her tight little hole or else this special event would be
over before it even starts. But, again, I exercise control over myself safe in
the knowledge that once I pop her little cherry, that I will be able to put my
fingers in her pussy and feel how tight it clamps down on my fingers as she has
another orgasm. And, between us, sometimes I get a little too excited and end
up pushing my thumb into her tight peach bud as I lick her from front to back
and over and over again until I can feel the tremble of her pussy against my
chin as she comes. Then it is my turn as I introduce her to my magnificent cock. You must admit, it certainly is magnificent. Hard, hot, big and pulsing, it is everything that any woman should desire in a cock and my cock has it in spades! I love to see a virgin's eyes go wide as she sets sight on it for the first time and then the tentative touch as she reaches for her prize and feels the contradiction that is my cock; hard, hot, pulsing and yet, smooth as velvet. I love the hesitation and then the touch, as gently as angel kisses and as welcome as my next breath! I
take pride in introducing a virgin to the way to please her man, and some of
them have been very quick studies, thank God!
Finally, the time comes to deflower her. I know she is a bundle of nerves, a
little fear that it will hurt her connected with the lust I have instilled in
her so far. I know that it can hurt her, especially since I am so big, But I
know that if I take care, keep her well lubricated and put her in a comfortable
pose, that I can minimize her discomfort.
I have to be honest with you, there is no other feeling in the world as my dick
ruptures her hymen; the hesitation, the pushing back and then finally ripping
into her hot and tight pussy, I've almost nut myself on several occasions from
that sensation alone. Her pussy clamps down so hard on my dick that it
sometimes seems as if her pussy is going to cut off my dick as I watch it
disappear deep into her body.
From there on, each and every virgin is unique and provides me with a wide
variety of pleasant memories that in this blog, I will reminisce on. So, join
me and tune into this blog every week as defloration.com presents new virgins
and new stories to excite you and intrigue you and as I reflect back on some of
the more memorable adventures of deflowering virgins.
Shit! Sharing with you has made my dick hard and ready to explode. Any takers?
Visit defloration.com next week to find out the whole story of Rebecca Brown.