Hi!
Yes, that's true, after a crazy and hectic summer, today I am back in the
studios of defloration.com to film our latest virgin. Its been a little while
and I'm sorry about that, but I've been filming scenes and movies just about
everyday and to be honest, I'm really looking forward to a less hectic schedule
and of course, a new virgin, at defloration.com. Make no mistake, the process that goes into making one of these videos you enjoy so much, is hard, serious work, but there is less pressure all around and I really enjoy the freedom that comes from less pressure. The day starts early in the morning when the virgin arrives at the studio. Her wardrobe is discussed and put together, then she has her hair and makeup professionally done. For some of our virgins, this is the first time such attention has been paid to her and it is a delight to see her reaction as she sees herself at her most beautiful. And even then, there are some virgins who
still don't comprehend how beautiful she is.
Depending on my schedule, I may come in early to hang with the photographer and producer as I count him as a very good friend and with both of our busy
schedules, sometimes this is the only chance we get to hang out. And sometimes
I can't get there until I am needed, but I am always prompt. When I get there, I like to spend some time with my virgin. I know that she has to be nervous and I want her to feel at ease with me and be relaxed. I do my best to make her feel special and desired. After all I realize exactly what she is giving up, no matter the reason. I want it to be special for her and for the most part, I succeed. Sure there are some virgins who are not as responsive to me, but then that responsibility falls to them. I can only do so much and then she has to put the effort forth as well and when she does, the result is nothing short of amazing. At defloration.com our clients get to re-live those magical moments over and over. Your enjoyment and pleasure is why we do this. What sets defloration.com apart is that we only work with verified virgins and we prove it to you with each and every virgin with live, sustained focus on her virginity. Sure, you may see some of your favorite virgins appear later in other scenes, including a re-enactment of her loss of innocence, but those are scenes filmed at a later date. When they film with us, they are virgins. What you see with defloration.com is absolutely real and unscripted. Sure, we have a formula that you can recognize and that you have let us know you enjoy, but each individual girl is a unknown and her personality shines through and in some cases, completely turns the shoot on its side and we get the most amazing footage from this kind of spontaneity. What you see and hear is absolutely 100% real. Every moan, every shout, every orgasm is spontaneous. The virgin has no control over the pleasure I give her and I have no control over the pleasure she gives me. That doesn't mean that I don't exercise control when taking her virginity, I do, but that is for her pleasure and also why she chooses to come to me instead of losing her innocence to a clumsy boy. This is a special event for her and she wants it to be special and I am most willing to give her that. I know that I am not the reason you tune into defloration.com, but next time, take a look at my facial expression as I enter our virgin for the very first time. Sometimes you will see the ecstasy I feel as I slide right into that tight hot pussy and her virginal walls grab hold of me. And sometimes you will see the pain of pleasure as I push my way into the tightest pussy possible and the blurry line between pleasure and pain registers on my face. We film start to finish and there is little editing done save to bring you the very best of what was shot. In other scenes that I do, I may spend 8 hours fucking to bring 30 minutes to the end result, but at defloration.com, you get videos of various lengths, but the video you get is presented with very little footage landing on the cutting room floor. So, I'm back and you will see the results of today's shoot very soon. I am going to enjoy the very real and freeing experience with my virgin as we create a new experience for you to enjoy. I know the waiting is difficult, but be excited as Rebecca Brown returns next week as she continues her experiences with
Renato.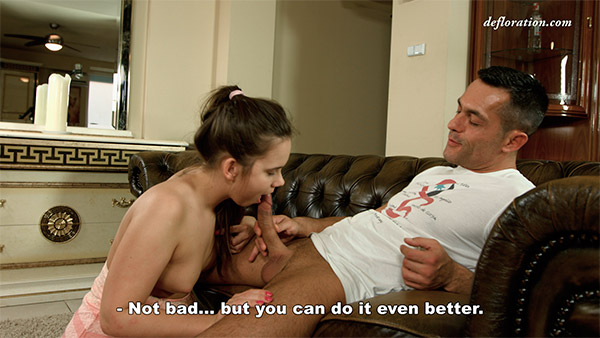 Until next time,
keep virgin whispers in your heart.