Welcome, Monday!
Fall is my favorite time of the year, well, next to Christmas that is! I love how the mild temperatures take on a chill in the late afternoon and soon, I shall come home from a "long hard" day at work and build a fire and enjoy it with some Jazz or Classical music and a beer or two. It is the perfect re-charge for the next day of hard work. Some of you may think that I have the perfect job, and for me, I do. But fucking is not easy work. For a finished scene, I may have to fuck 8 or more hours and at the end of the day, I've had quite a workout!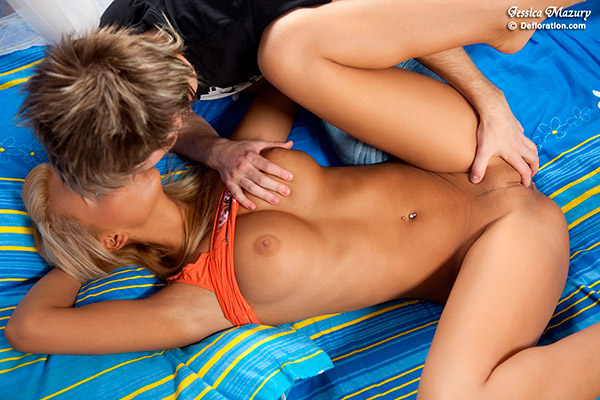 Now that the weather is cooler, I have to take my regular exercise routine indoors.
I love to swim, I'm a Cancer, after all. But, inside pools don't have quite the appeal that swimming outside in the warm sun has for me, so I tend to slip up on my healthy exercise routine come winter. Of course, we still film even when the temperature has dropped so much that my dick freezes into position and I'm sure as my fans, you've seen this firsthand. One thing is for certain, though, at defloration.com, we never film outside and while Budapest may be under three feet of snow, when filming at defloration.com, we are always warm and toasty and those pebbled nipples I am so fond of, well, they are the real thing, risen from my passion, not the temperature. And that brings me straight to my virgins. I love how responsive my virgins are to my touch. For the most of them, the gentle sweep of my fingers across the side of their breast and then gently, like a feather's touch, over their nipple, is the very first time a boy has touched them and as a man, to watch their nipples pebble and their breasts firm up, just sends the most erotic sensation straight to my dick. So next time you pull up your favorite virgin, take a close look at those first few moments, expand your screen for the closest view possible and enjoy the view I enjoy so much. Then close your eyes and give yourself over to the sensation. Here at defloration.com, we've added a BLOG for our virgins to weigh in on their experiences in losing their virginity. I have to warn you, they stories of our virgins are as graphic as my BLOG entries are, but they will give you some insight as to why they chose to lose their virginity in front of the camera as well as the sensations they experience. We hope that you enjoy their stories (virginssecrets.com), as well as mine, and that they add a new dimension to your pleasure and enjoyment of our videos.
Today's Virgin story comes from Jessica Mazury.
She is one fine specimen of a girl and while I had been aching to do the job, I mean, really, really aching, she refused me. What a blow to my ego that was! Her boyfriend did the job and I am sure that when you watch her videos (she even goes anal) you will agree, it is one hot fuck of a video!