Anna Lukina
Hello There!  It's me, Franchesca, hijacking Tommy's Blog today. Tommy is either fucking busy or he's busy fucking, it doesn't matter which with his magnificent cock, it will be a film we will all wait on hands and bended knees-ha!- for its debut!
Anyhow, I'm here with you today and I know that you have been enjoying some extra video footage of Renato and everybody's favorite Virgin. Anna Lukina.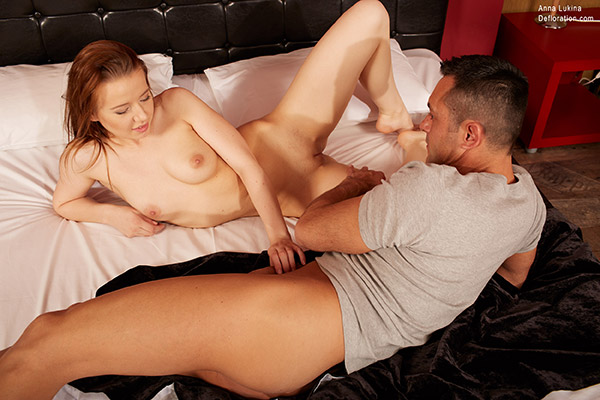 To be honest, she was my favorite Virgin.  You all know that when I don't like a certain Virgin that I do not keep my dislike a secret; well it's time I do the same and tell you about my favorite virgin.  And that virgin had to be Anna.

Anna was such a sweetheart.  She sold her virginity to us for money, which is what she needed.  But get this, she had no idea how fucking beautiful she was or is.  I'm not into girls, but I could appreciate her simply and innocent beauty which she maintained throughout the entire shoot.
When she came to the shoot, Anna was visibly nervous.  I don't speak Russian and I barely have a handful of Hungarian to rely on.  Sergey, Tommy and Renato speak English well enough and they are trying to teach me a bit of their native languages and that could be a hilarious blog post in and of itself, but you aren't here to read about our antics, you want to hear all the juicy gossip behind the scenes here at Defloration.com
The entire time Anna was in hair and makeup she was stock still quiet.  Every once in a while, she would take a quick peak of herself in the mirror and you could see a shy smile break out on her face.  When the artist was done, the vision of Anna took my breath away and I thought of how lucky Renato was going to be in a few short hours.  And Anna got up out of that chair with a slight edge of confidence and met Sergey where her still shots and solo video would be filmed.
When Sergey started snapping away, the pictures he took that day were sensational!  He was able to capture her innocence on the cusp of her losing her innocence.  He captured her curiosity as she learned to pleasure herself and the joy of approaching orgasm; that look of complete peace and then tortuous pleasure as she came; these pictures were nothing short of erotic genius.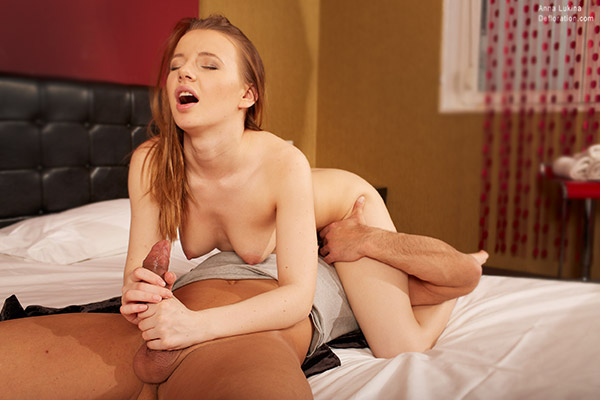 Then, the video of Renato taking her innocence.  Just beautiful; absolutely beautiful.  Innocent, yet enthralled with the orgasms that Renato gave her.  I was admittedly quite jealous, but my lack of virginity disqualified me from the play they both enjoyed.  Every sound that came from her mouth was evidence of the pleasure she was taking from Renato and every moan from his mouth was proof of the pleasure Renato was taking from her until, all too fucking quickly, they came together; both satisfied and both world's rocked from their mutual pleasure.  I sincerely doubted that they were finished as they moved to do the still shots or as someone I know calls them very nice skin shots, and the level of Renato's seduction had not decreased and Anna, well, tired little virgin she was, she was not through with taking or giving pleasure to Renato.
So, as Sergey was setting up the still shots on the bed, somehow, the video camera continued rolling and the video you've been watching, well, it was hot!  H-O-T!  HOT!  I was right, our precious little virgin wasn't finished with Renato's dick and Renato's dick was not complaining one bit as her mouth eagerly devoured his hard, hot and throbbing dick.  Anna, precious little Anna devouring a dick as if it were he last meal!  And to be honest, I devour cock with as much enthusiasm, so I had a little bit of mother hen pride going on.
And even though the still shots were still important to get, Sergey and I stood by transfixed by their actions and then Renato leaned over to pleasure Anna with his fingers and get a little anal play in.  By the time we came to our senses and realized that not only had we been distracted by Anna and Renato, the video camera was still recording, Anna and Renato had given each other another mutual orgasm, the still shots had not been done, an the air conditioning had to be turned up; way up!
At that point, it was best I take my leave and return to the one who owned my orgasms.
I was a little bit proud of Anna.  She was a great virgin.  I know there is fear of the unknown and fear of pain and even with a little bit of fear of what could come from anal play; but Anna handled all that like a champ.  She allowed herself to relax and enjoy every single moment of it all.  From Renato fingering her to her first male given orgasm to Renato eating her out , to Renato tearing he hymen with tenderness and class to her epic BJ and anal play inspired orgasm, she took it all and gave it all back like a champ.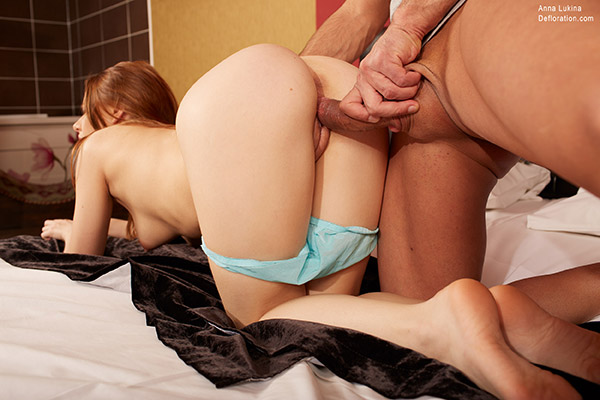 So many times I don't know what to do with these virgins!  Sometimes I just want to tear off my clothes, toss them out of the bed and say "Look here, sweetheart, this is what it looks like to enjoy a dick!" And then proceed to show them how to pleasure a man an herself with a dick.
But we deal in decorum here at Defloration.com and I can't do that.  Our videos are all about what you want to see; the loss of virginity and all the emotions and feelings that a virgin goes through.  I get that because your pleasure is the only reason why we are here.  But every once in a while there is a virgin we all love and that is Anna Lukina, so we were quite pleased that we had a little bit of extra coverage we knew you would love and here it is; a pretty little virgin just for you.
By the end of the week, we'll have some more video of Katy and while I won't divulge what is on the new video (aren't I a cruel bitch?) I know that last year you loved our Virgin Katy and how she discovered her pleasure bundle and hymen, so I know that you will love her again.
And in response to your inquiries, Tommy will be back taking the virginity of another innocent virgin very soon and yes, I will tell you of more things in sex that appear to only be pleasure for a man, but when done properly and with the absolute most perfect cock in the world is really all about the woman's pleasure.
Yes, in the erotic industry, most everything seen is for the pleasure of the man; but I tell you, if you stop and think about it, there is immeasurable pleasure that the girl gets; but you have to know where to look and I'll be happy to tell all as theysummer goes on.  Right now, I am in need of some inspiration, so, see ya later!