Good Morning!
Have you had a pleasant weekend?  I didn't, but I will get to that later.
I'm sure you have all seen the pictures and the video of Sasha this weekend and enjoyed then as I have (the one bright spot in my weekend)  At defloration studios, we are honored and proud to have exclusive partners in cities where it would be difficult to work who shoot exclusively for us and are as particular as we in our selection criteria.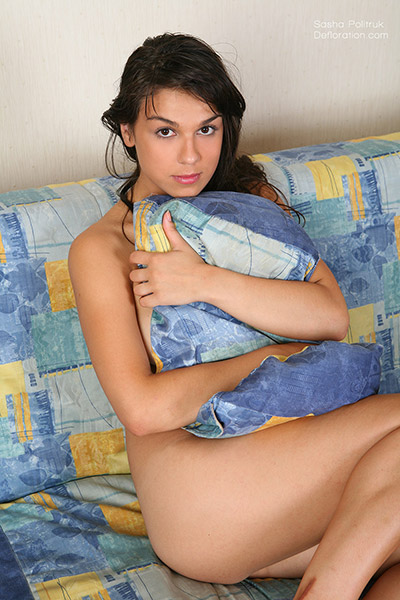 So, Sasha, she is naturally beautiful; she is fit and trim, neither overweight or anorexic, he boobs are round and have a natural heft to them and her ass, well, I hope our producer will bring her to me here, so I can take her of her innocent virgin pussy and hope she lets me take her ass, too.  Now, that would be a shoot worthy of getting out of bed for, but not this weekend, not for me.
I am sick.  100% worn out, don't ever want to leave my bed, not even for a beautiful virgin who will let me take her ass.  I am freezing to death, but my fever is over 39.  I'm thirsty, but I don't want to leave what little bit of comfort I have to get something to drink.  And it feels as if I will be this way for a while. It snuck up on me quite quickly.  I'd been very busy fucking all week and had planned on being in the studios early Saturday morning to participate in my favorite pastime, Virgin Whispering.
Well, fucking most be harder than I'd originally thought, but I guess I just fucked myself right into my bed because that is where this bastard of a bug caught me and its where I aim to stay until I manage to get this bug deported.
Fucking is not easy work.  I've told you how hard it is, no you cheeky sods, fucking, not my dick.  My dick goes without saying, but fucking for a living is fucking hard.  And we are not so large a community that this bug won't make its way through all of us before it has done its damage.
Yes, by testing standards and requirements, we are very well protected from many things, however, the common cold or flu is not one that anyone can predict or prevent.
So, while I've spent the weekend tucked safely in my bed, I've had no action whatsoever, I missed doing a virgin, but as the week begins, I'm feeling a little bit better.
My company as yours was our darling Sasha and by the end of this week, you will see the video you have all been waiting for, Blackie.  As you know, the shoot didn't go exactly as planned, but I am anxious for you to see my "hard" work and hear what you have to say about that.  So, stay tuned to defloration.com, keep reading my blog at blog.defloration.com and read the real virgin stories at virginssecrets.com.  Keep showing me the love and I'll keep loving those virgins you love so much.