Well peeps, I've finally managed to pull my head out from under the covers long enough to enjoy some of my favorite videos staring my favorite porn star, Me!  So why is it when they mention "porn star"  they are always referring to the females?  Well, without the beautiful beauties for us men to fuck, there wouldn't be much of a movie, now would there.  I'm pretty sure you would get bored of me jacking off, alone, in every 
defloration.com
 video.  Am I right?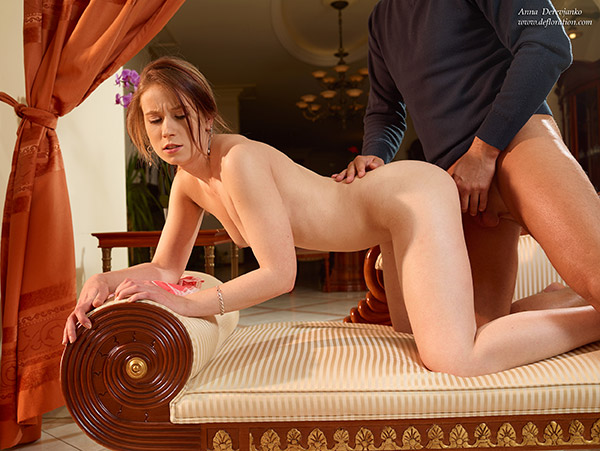 So, today I bring you my remembrances of taking the virginity of one very special girl, Anna Derevjanko and as soon as you finish reading my version of the events as they happened, I want you to go over to our sister site 
virginssecrets.com
 and read as our own, exclusive, erotic romance writer, Franchesca DeNoir tells you the stories of our virgins as they were told to her.
I'm sure you've noticed the increase in activity with the stories of all our virgins and their experience of being deflowered on the site at 
defloration.com
 and our sister site, 
virginssecrets.com
 and have seen her promoting our activities (and in particular mine) on FB and twitter and we owe all this new way of you enjoying our videos from a fresh and new perspective.  She also writes full length erotic novels and right now, she is finishing up The Lonely Boy Series (available on 
Amazon.com
) and Amazon in many European countries as well.  But, soon, she'll be focusing her talents on her latest novel called "The Virgin Whisperer" which will be out later this year.  This will be a great novel to read and it focuses on yours truly and will give you and even deeper and more intimate look at like at 
defloration.com
.  She is very busy right now creating some awesome swag for you to buy and enjoy and as soon as those are ready to go, you, our loyal followers and customers will be the first to know and have access to.  You don't need to worry about other sites copying her stories, because she is exclusively ours!  With the exception of her written novels, she is exclusively ours and we are as excited to have her as she is to be with us.  So, stay tuned, keep giving her some loving, follow her on twitter (FranchescaDeNo2) and on FB and sit back and relax as she brings to you, the exclusive stories of all our virgins and their experiences.  Some of the stories she will bring to you are fucking hot and you'll be reaching for the ice bucket to cool you down and some will be sweet, but they all are exclusive to only 
defloration.com
!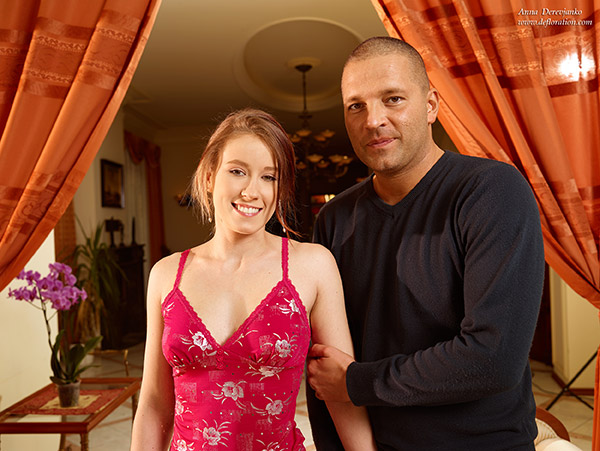 So, back to Anna, beautiful, beautiful and responsive Anna.  I don't remember exactly why she came to us, perhaps she will tell you herself in her story, other than to lose her virginity by me.  When we first met, she was already to shoot her stills with me and her hair and makeup was done and she was quite simply, stunning.  Her beautiful red hair, while styled to survive the day of shooting was soft and smelled sweetly of strawberries.  She was a little shy at first, but as things progressed she began to open up like a beautiful rose blooming on a spring morning and her laugh and smile were not only infections, but quite arousing.  He alabaster skin was so soft, so smooth, you could get lost in running your hand along any part of her body, but especially along her warm, virgin folds, heavy with the fragrance of her arousal, just waiting for your attention.  And she had the cleanest, softest feet I've had the pleasure of sucking on in a long time and you all know how much I love sucking on toes!
When we got started with the filming of the loss of her sweet innocent virginity, I was so turned on and so anxious to get into that pussy, that my foreplay was a little bit shorter than usual.  I couldn't stand waiting a second longer, that I fore went the usual blow job teaching.  Well, I taught her the very basics, but once those ripe cherry lips of hers surrounded my cock and her firm warm tongue welcomed me into her mouth, I almost nut myself it felt so damn fucking good!  Well, I just couldn't wait, I had to be in that pussy of hers and I'm sure that when you've watched the video, you will understand my need, too.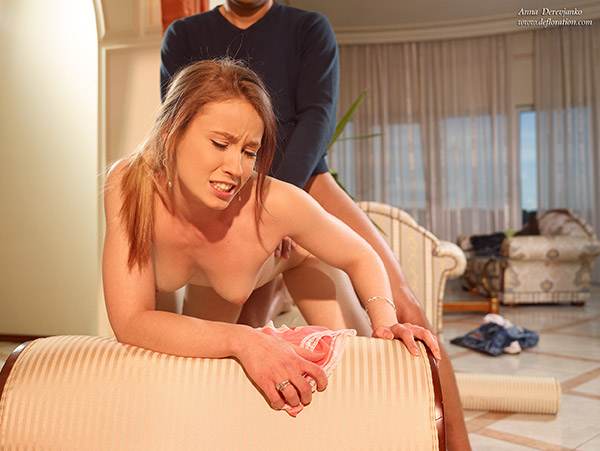 I didn't need to prime her too much.  She was already dripping wet by the time we were ready to start shooting and you could smell her sweet essence as it permeated the room.  I also couldn't wait to make it as comfortable as possible.  I pushed in once, twice, and on the third time, I sunk into her balls deep, I went farther in than I had ever gone before on first thrusts and I was rewarded with her pussy grabbing me and squeezing the ever loving life out of my cock!  Oh shit that was the most amazing feeling!
And it didn't stop there, Anna was incredibly responsive and when I'd make a little swirl with my hips, she moaned the most amazing sounds to ever come out of a woman's lips.  And the more aroused she became, you could see her skin react with this most amazing blush that just swept up her body from he beautiful pink pussy to under her perky little breasts and finally climbing up her long and elegant neck and too quickly, I lost it; her pussy was just that amazing to begin with, but when you add in the concerto of her moans, her scent, her wetness (you can really see exactly how wet she was on the video with my cock sliding in and out of her pussy) and the beautiful blush to her skin, well, you'd come quicker than you'd like and then you'd go back for seconds, and thirds….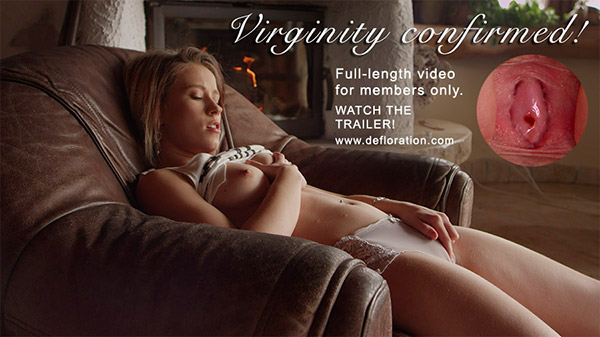 A virgin like Anna doesn't come around very often, but my cock was pleased to have found her pussy.  So back to bed I go now, hoping I'm leaving you with the enjoyment of seeing Anna's video from a fresh and new perspective.
Until next time,
I leave you well in hand 😉