Hello, there my peeps!  Its Tommy here, but I've got just a second before I have to run. I'm out and about making movies staring your favorite cock and you all know how hard my job is, so I'll turnover today's blogging duties to one of my favorite fuck buddies, Renato.  I'll be back again with you at the first of next week, so until then, enjoy Renato's story and be sure to log in on Friday for the very beautiful, and rather kinky Nicole Birdman.  Take it away buddy!
Hello there!  I am Renato and I am also a porn star.  I'm sure you have seen some of my videos at defloration.com including the disastrous one with Rebecca.  She scared the balls off me!  The producer will call me in when Tommy is unavailable and then I have the honor of taking the virgin and letting her discover just how wonderful sex can be.  It is such a shame that Rebecca was unwilling to allow herself to give over to her pleasure, but the virgin I am remembering right now, makes all thoughts of Rebecca disappear.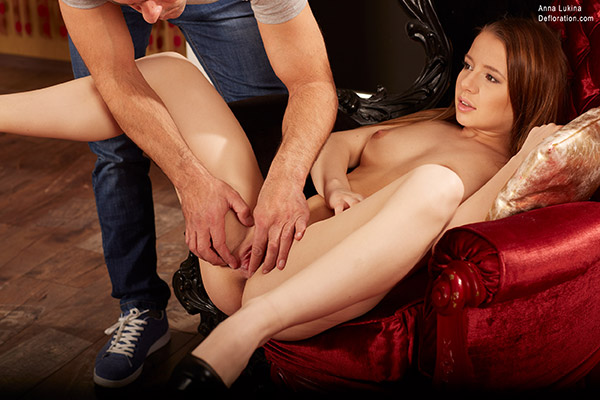 In fact, the producer at defloration.com has informed me that this virgin, Anna Lukina, is quite the fan favorite and she was most certainly my favorite.  Anna, well Anna was just exquisite.  She was in the beginning a very shy and nervous girl, but through the video, you will see her blossom into a beautiful young woman, a gorgeous sexual creature and I just know that is what you love about her.  I was too close to the action to see this blossoming, but when I got to see the footage, wow!  Her transformation was nothing short of amazing.

She began very nervous.  She began not speaking a word of Hungarian and I began not speaking a word of Russian.  But as we began to explore and get to know each other's body, we began to communicate on a level that most people never have the chance.  Her virgin pussy had quite the conversation with my hard, long and thick cock!
The photographer translated for us in the beginning.  I tried to reassure her that I would be gentle with my eyes, but at first, she would not look into them; she was so nervous, her body was trembling.  To be honest, mine was trembling too, with such great desire that I wasn't sure that I would be able to control myself.
She was the perfect virgin.  Her body was lush with curves that melted against my overheated body, and her pussy was fragrant with her arousal.  At times, feelings became too intense for her and I had to pull back and let her body adjust to these new and foreign feelings. When she composed herself, we continued and it was one of the greatest hour of pleasure I've ever had.
It pained her when I entered her, and to be honest, it pained me too.  Her pussy was so tight it was like a vise and as I stilled to let her body adjust to my girth, her pussy clamped down even tighter.  It took more than a few thrusts to be balls deep in her but soon, my cock and her vagina were conversing very well with each other.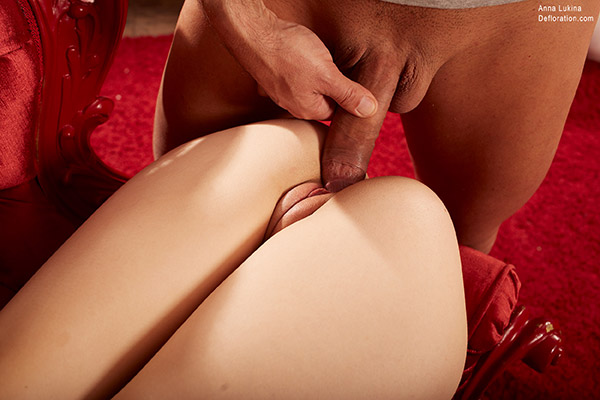 Her first orgasm snuck up on the both of us.  Neither one was prepared for the onslaught of pleasure that exploded between us as her pussy milked my cock for all it was worth.  I had to think of something other than the pleasure coursing through my body or I would lose it, but I couldn't stop from feeling her tightness become even tighter and the feeling of her virginal walls undulating up and down my cock. Jesus Christ!  It was the most incredible sensation of my life.  Seeing as how I love to fuck and I love to fuck hard, this eclipsed fucking hard.
We tried many different positions and my body was nearing exhaustion at holding back my release when the photographer had her sit on my dick with the chair just supporting my upper torso.  She climbed on top of me and I inserted the bulbous head of my cock into her warm, wet and inviting pussy and patiently waited as she sunk down on me.  I started making small thrusts and with each thrust I moved deeper and deeper into her pussy.  You can see the incredible close up footage of this and see her juices cling to my cock on the video and eventually, she was balls deep.  She began to move herself confidently over my shaft and this is where you see her completely blossom into a sexy and confident woman.  The look that comes across her face is at once angelic and yet carnal.  I took pleasure in feeling her body make that change and soon, I could feel the tell-tale signs of her impending orgasm and then, at the same time, we came together in one magical explosion of stars and bright lights.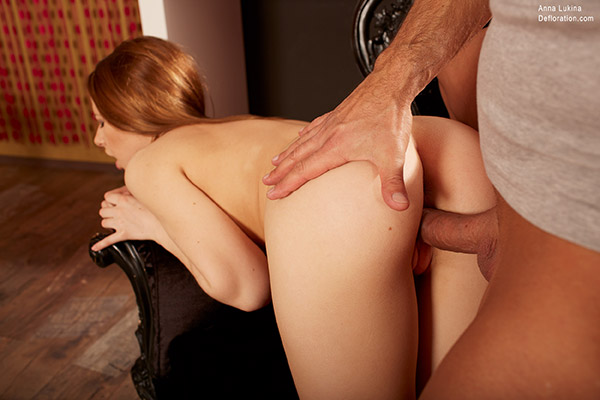 I continued to thrust into her after we both were spent.  I wanted to pull out, but every time I tried, her pussy pulled me right back in and at that point, I didn't care if I ever pulled out.  I could envision myself becoming hard again and continuing to fuck her, but we were both exhausted and in the need of a good cuddle, so while the cameras cut we just stayed there frozen until my dick finally popped out.
This was a fuck that would stay with me forever.  I secretly had hoped that her goal was to become a professional porn star, so that I would get to have her beautiful and welcoming pussy again, or to be the one to introduce her to the pleasure of anal sex, or just anything to have her again, but alas, that was not her story and I would just have to be content with the memory of her virgin pussy.  She will tell you her story at virginssecrets.com  and so I leave you now with my very vivid memories of Anna Lukina.