Hello There My Favorite Peeps!
Yes, it is me, your favorite porn star and all around good guy!  The weather here in Budapest has turned very cold and winter like and sometimes my balls are colder than a witch's tit; but my cock and heart are still warm and ready to go.
Franchesca has educated me with some American phrases of hers and while the meaning seems a little lost in translation, she does have a point; but then since when does my cock not have a point?  Ha! Thought you would like that!
Anyhow Franchesca has said quite pointedly I must add, that I am a "Wham, Bam, Thank You, Ma'm" kind of guy. Sensing my confusion with her finger pointed at my chest, she continued her description: "Love 'em and Leave 'em"; One Hour Stand and my favorite; "Fuck 'em and Chuck 'em."

I got the meaning of the last one thank fuck!  For a few seconds, I was sure I was in for one of her famous, pointed finger lectures.  But, thankfully, she was just describing another day at Defloration.com studios.
And sadly, for the most part, she is correct.  Most of the virgins come to me, chaste and resolute to losing her virginity in front of your favorite camera and one of the best photographers in the business just for your pleasure and enjoyment.  Once she is no longer a virgin, though my interest in her may still be peaked (and flying at full staff, I might add) but alas, our time together is over and she collects her money, I collect my money and I may pass her by on the street, but when the cameras stop rolling, so do my hips.
With a few exceptions.  Marvelous and intoxicating exceptions; many who I have had the pleasure of fucking again and again as a porn star and many I hope to get to fuck them again as their starring roles come pouring in.
You have already read the story of Minnie Manga and seen my marvelous defloration of her as Anna Derevjanko and soon you shall read the Virgin's Secrets of our newest virgin, Anka Minetchica who, since filming her defloration with me, has been burning up the local pornography studios with her enthusiastic performances.
If I get the chance to fuck her again, it will indeed be a pleasure to introduce her again to you with her new screen name, but like me, you must be patient in your quest for her professional name, just like I am.
Anka, how does one describer such an adventurous soul?  By now you have seen her solo video and damn if she didn't make me hard just stripping in front of the camera!  Oh, but when it came time for her to finger herself to orgasm, Wow!  Just fucking wow! She let go!  No inhibitions, no reticence just pure unadulterated fucking magic.  I'm sure you all have wanked off quite a bit in the last week to her solo performance, but I am here to tell you that you haven't seen the best part and that is my video of taking her innocence.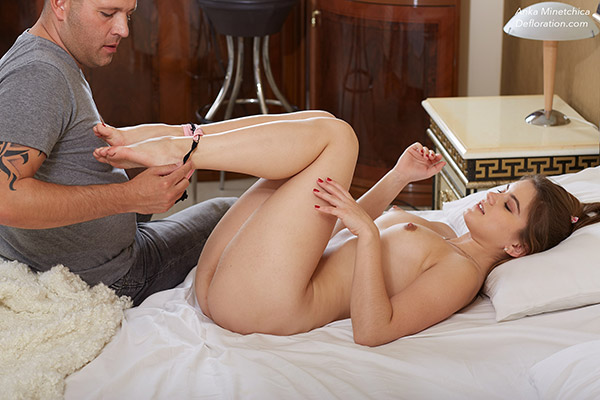 So, later I shall tempt you with my story of taking her innocence and fucking that hot; sweet innocent virgin pussy (and it was fucking magnificent) but for now, you will have too be content with reading the first part of her story.  It is as wank-worthy as her recent video and her recent memory is keeping me warm at night; as I know she has been keeping you hot and bothered as well.
So, again, I turn you over to Franchesca and her story of Anka's journey and while I've certainly fucked Anka, I haven't chucked her, I'm just waiting to be assigned another scene with her.  That day can't come soon enough!
Her video available here: www.defloration.com