Happy Valentine's Day
It's me again! Happy Valentine's Day. Whether you have already celebrated or are getting ready to celebrate, or you don't even celebrate, all of us here at Defloration.com, blog.defloration.com and virginssecrets.com want to take a brief moment to express the love and affection we have for all our fans.
There is not a day that goes by that we do not appreciate your loyalty and support. We do our best to provide you with the most excellent virgins in the world and the most authentic and enjoyable defloration experience possible. It is our pleasure to be able to bring to you much pleasure and we are happy to be able to do so.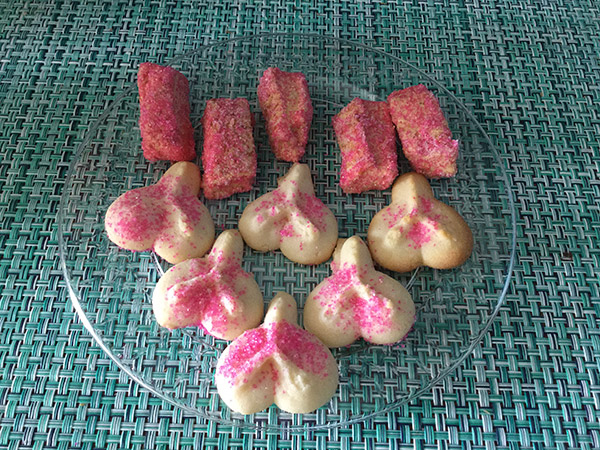 Here you will see a picture of the treats that Franchesca has made for us as she shows her love for Sergey, our producer and the most talented photographer in porn, our tech team that keeps your entertainment flowing, our virgins and of course, me.
I was well into my 10th cookie and I happened to notice something strange about them. I mean, they taste amazing as just about everything that comes out of Franchesca's kitchen does, but if you turn your head, just in the slightest, Oh! My! Fucking! God! She did not just bake us a batch of cookies that look like……Antonio Ross's balls!
Yes, they started out as hearts and then she had to go with the pink sanding sugar and yep! They do look like Antonio's balls! And that admission comes straight from Franchesca.
Of course, Sergey has informed me that she can identify me just from looking at my ass or cock. Yes! Franchesca has every vein, dimple and wrinkle stored in her brain and she doesn't need to see my face, my tats or even hear my voice! Amazing! And she admits she can tell both Antonio and Renato apart from others the very same way.
I don't know just exactly what that says about Franchesca's dirty little mind, but she thinks that it is hilarious! And so do we.
So, I shall be back tomorrow with more on Aleysa as I just cannot get that girl out of my mind. Her fragrance, her eyes, her. I can't let go and I'm not so sure I want to let go, but that is a post for another day and another topic and I promise I shall tell you more very soon.
From the very bottom of our hearts, all of us here at defloration.com wish you a most splendid Valentine's Day or just a lovely Sunday, February 14, 2016. We love you so very much and we are so glad that you love us, too.
Until tomorrow
Enjoy life!