Taking Care of Business
Hello again my favorite fans! The weather remains mild and somedays it seems as if we will just skip Winter and Spring and roll right into summer. Franchesca is irritated to no end over this as she really likes Winter and Spring. She wants a weather do-over!
Anyhow, I wanted to take the time to acknowledge a special fan who was thoughtful enough to want to send me a gift. And I thank her for thinking of me and for her generosity, but alas, with the volume of fan mail that I receive every day, it is impossible for me to acknowledge gifts and I would not want anyone to think that I do not appreciate your kindness towards me. Also, with the way things are here in Budapest, it is quite possible that I would not receive your gift. Franchesca works her fingers to the bone to help me answer your mail, but as of now, she declares that I am at least a year behind in my fan mail! Soon, she will be asking me to pay for her manicures!
If you truly wish to honor me with a gift, I ask that you either make a donation to your favorite charity or volunteer for a cause that is important to you. This would please me greatly and I do appreciate all the lovely cards and letters you send to me. I am trying to answer each of you, but the task is daunting with thousands of letters waiting to be read and answered. So, thank you dear fans, I am #9 now and that is because of you and I appreciate and am grateful to each of you for your loyalty.
Safe Sex
There is nothing safer in sexually transmitted diseases than a virgin, but as Franchesca is quick to remind me, you don't have to participate in penetrative sex to acquire a sexually transmitted disease. So, here in Budapest we have some of the strictest testing laws and requirements in the world and that extends to virgins as well.
In addition to strict testing requirements we are quite serious regarding the practice of safe sex outside of our professional lives. We are a tight knit community and we put our trust in those we work with that they as well practice safe sex as well. It is a matter of trust and loyalty towards our colleagues and we take this matter quite seriously. When we fuck on the camera, you can be assured that even though we don't use condoms, we are quite safe from sexually transmitted diseases.
Aleysa's Gift
I am sure that by now you have read the final installment of Aleysa's story. And you also know that I took her anal virginity. I'm not quite sure exactly what Franchesca had to do to broker Aleysa's agreement, but her anal virginity was a very, very special gift and she gave it willingly.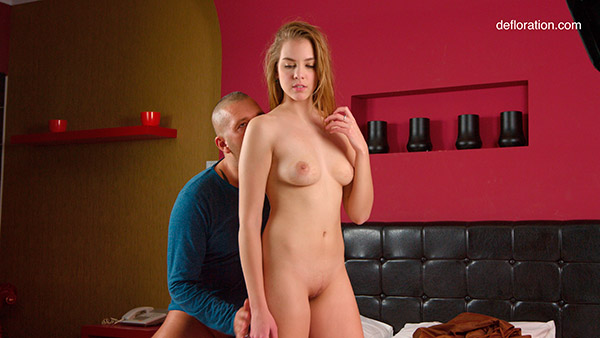 Aleysa is an amazing young woman; there is deep passion within her, even though her first experiences were painful for her. She very bravely returned for a second video and while I doubt that I will ever see her professionally, I really enjoyed working with her and would love the opportunity to fuck her again when her pussy (and her ass) are no longer sore. But I do not see her entering this business; her heart is too gentle and this industry is fast and furious and at times can be quite cruel. She will make one lucky man very happy with her passion and willingness and for that I am a trifle jealous. I will never forget Aleysa and I thank Sergey for finding her and bringing her to me, she was simply amazing and I am fortunate to have been able to be the one to take her virginity in all manners and give Aleysa her very first orgasm.
So this ends my blog for now, I will be back soon about our next virgin, Marfa Piroshka. She was unusual.