Hello again! We did something different on virginssecrets.com this week in posting a direct response to a query from a fan. This fan was interested in hearing how Franchesca lost her virginity and in true Franchesca style, she shared it all and it was pretty fucking hot! Who would have thought that beneath that tiny little woman dressed as conservatively as Jackie Kennedy, that little whip of a woman with the quiet little voice would rest one hot momma! So, take a break from our Virgin's Secrets and read Franchesca's story. I have it on good authority that there will be more to the story later.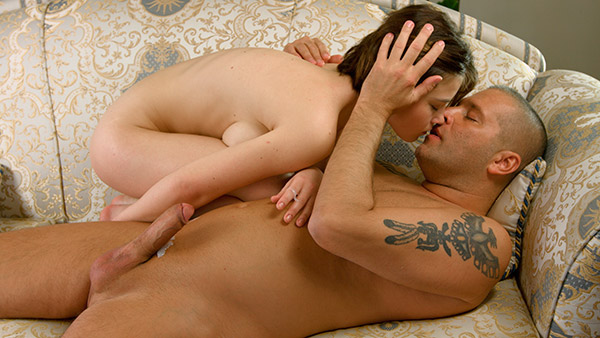 The next virgin up for your viewing pleasure is Marfa Piroshka. She came to us after her husband, that's right, Marfa is married, failed her on her wedding night and since she is not a girl to be ignored, she solved her virginity problem in our studios and made a nice paycheck as well.
Marfa had really nice tits. They weighed firm and heavy in my hands and her nipples were as large as a teacup! She had a sly smile, but she really didn't smile much, she was all business that girl was!
She had a couple of orgasms and they came easily for her. She is very responsive to sexual stimuli and as much disdain I feel for her husband because he failed her, he is one lucky bastard! An undeserving bastard, but a lucky one.
I could never imagine forcing a daughter to marry a man so much older than she. Furthermore, I could never imagine failing a bride on her wedding day! Her life is all sorts or wrong on so many platforms that I really felt for her. I was glad that I was able to take her virginity as her husband should have and to be the first to give her orgasms.
I've said it before and I will say it with my dying breath that I consider the virginity of the girls who come to DTV defloration.com a gift. Regardless of their motivation, their virginity is a gift to me and I repay that by being as gentle as possible and attending to their orgasms before I seek my own release. At least for the brief period of time I have them, all the attention is focused on them and their orgasm and I hope that they find lovers who will give them the attention they so richly deserve.
So, I hope you enjoy reading Marfa's story and I'll be back soon with more about Marfa and our time together.
Until then, I thank you all so very much for your loyalty. You can keep up to date on all of our happenings on twitter (just click the little blue bird at blog.defloration.com) and you will find Franchesca's little blue bird at virginssecrets.com Follow us both for all the latest updates on the activities and videos that we bring to you every week at defloration.com .