Hail! Hail! The Gang's All Here!
We've had a busy week here at Defloration Studios. Between filming, casting, editing and creating the content you enjoy so much, Sergey, I and Franchesca haven't had much time to relax, so we headed to our favorite restaurant, Spoon, The Boat, a floating restaurant permanently moored close to the Buda Castle right on the Danube. Franchesca is quite fond of the goose tarte and scallops and since she was leaving on holiday, we were all in a celebratory mood.
We started with drinks, Sergey partial to vodka, Franchesca a new fan of Apple Cider and for me, there is nothing like Dreher draught in a frosty tall glass. We had just ordered when who should come in, but my fuck buddy Antonio Ross and the very beautiful Amirah Adarah.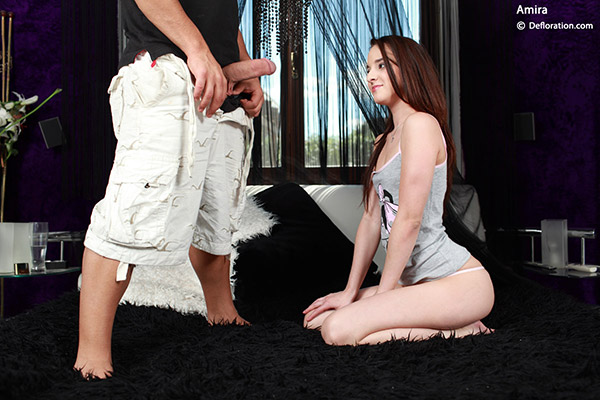 Amirah filmed the loss of her virginity for defloration.com a few years back, but it was Antonio who got the luck of the draw and he did the honor of popping her incredible Cherry. Franchesca viewed this little gathering as a bonanza to gather information about Amirah's defloration experience and of course, Antonio's perspective. We were there to relax as they were, too, but since Frachesca declared that drinks were on her, we all readily agreed to answer her questions. Our conversation went a little bit like this:
Franchesca: Amirah, your first scene in this business was filmed at defloration.com Studios. What drove you to want to get into the adult entertainment business?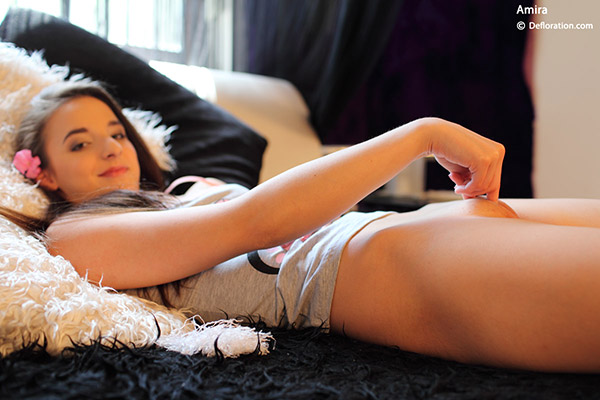 Amirah: Well, Franchesca, there are not a lot of opportunities for young women in Budapest and the former Soviet States. The economy is rough and as soon as I turned 18, I needed a job, and fast. I'd seen an ad for BrillBabes erotic model agency and I knew I had a good body, so I went for an interview and the next thing I knew, I was at defloration.com's studios preparing to lose my virginity for the cameras.
Franchesca: Before we go any further, you do have a nice body. And you are known for your epic ass. How hard do you have to work to keep it in good shape?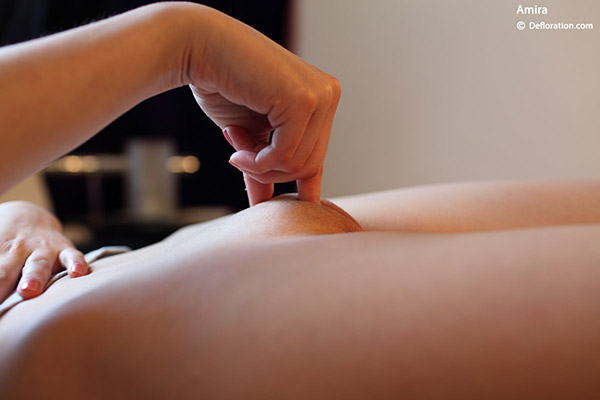 Amirah: Ha! Yes, its true I was nominated for an AVN Award for Most Epic ass and I was Dogfart's Girl of The Month late last year, but it really hasn't been too hard to develop my ass. I do work out, but not too much in a gym as I prefer outdoor sports like bicycling and hiking and I watch what I eat. I pretty much film full time so all that sex helps keep me in shape too!
Franchesca: So, Antonio, I'd love to do a feature about your experience with Amirah and her experience with you. Could you give me a few clues as to how it was to pop the beautiful Amriah Adarah's Cherry?
Antonio: It was fucking fantastic, Franchesca! Amirah was a little intimidated at first I think, especially with the cameras so close to our very intimate coupling, but she really got into it when I started eating her out…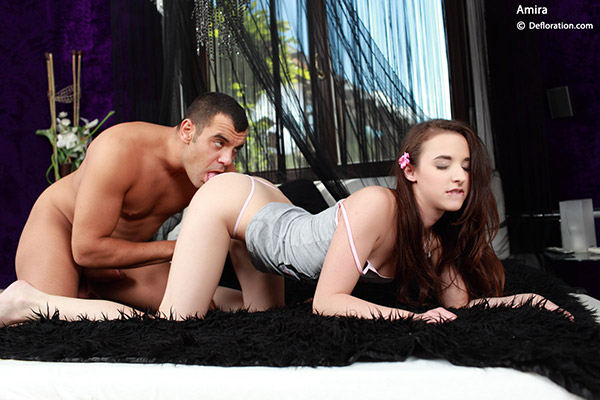 Franchesca: And once you latch on Antonio, you don't let go!
Antonio: You know me all too well, don't you?
Franchesca: Well, that is my job…
Antonio: And you do it so well, but as I was saying, she was incredibly responsive and she had an amazing orgasm..
Amirah: It was my first, Antonio…
Antonio: Yes, I was your first and I've had the pleasure of fucking you many times since..
Amirah: The pleasure's been all mine, darling..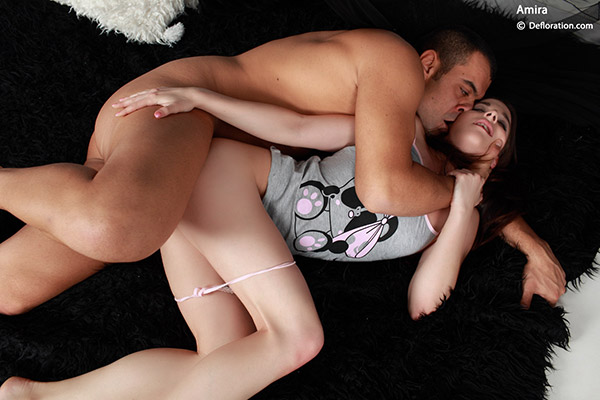 Antonio: So I gave Amirah her first orgasm and then I just keep going. I like to distract a virgin by giving her several orgasms so she completely forgets about the impending pain and her body is just dying for me to fuck her. And Amirah was no exception, especially given my size..
Tommy: Your size? Old man? You want to talk size, I'll give you size!
Sergey: Boys! You are getting a little off topic aren't you?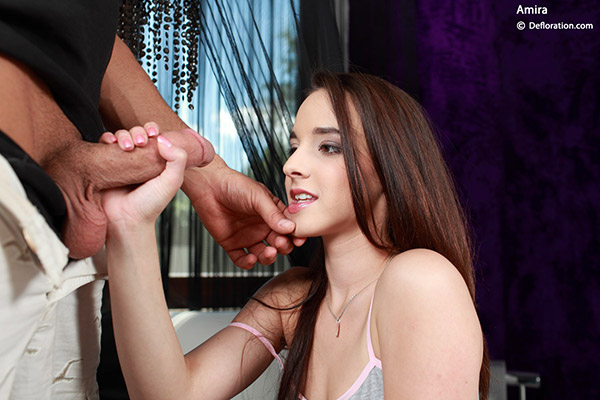 Antonio: Yeah, lay off junior, Anyhow as I was saying, she was just so wet and ready for me that my task was easy, and oh! what a fucking pussy! Shit Amirah! I'm getting hard just thinking about it! Well, you've seen the video, I could have kept fucking her for hours, but eventually, being sheathed in a pussy like that, well, nature took over and we finished long before I wanted to, but since I've had the honor of fucking her many times since then, its been fucking fantastic!
Tommy: Hey! I've had that honor, too! Shortly after you deflowered her for defloration.com, I got to film a scene with Amirah where she played a jilted bride and I rescued her from her shit head of a fiance who left her at the alter. The dude must have been a eunich to leave that ass at the alter…
Antonio: and that was before Amirah became known for her epic ass…
Tommy: So, yeah, she's no longer a virgin, but Amirah, baby, you are fabulous
Antonio: Here! Here! A toast to Amirah and her epic ass!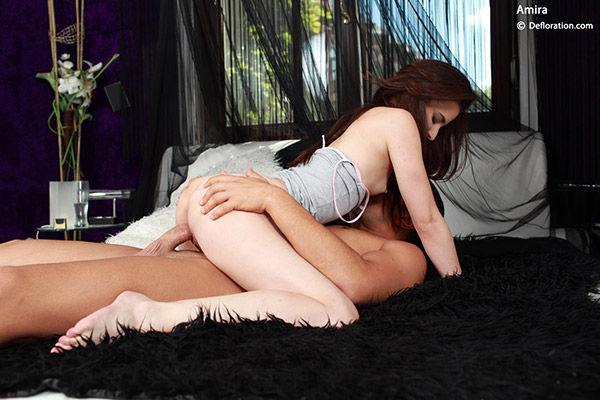 Franchesca: So now that the boys have finished their pissing contest and their trip down memory lane, how was the experience for you, Amirah?
Amirah: It was a little intimidating Franchesca, I knew that I wanted to get into this business, but I was a virgin and my agent was amazing and made all the arrangements with Sergey and between the makeup and hair artists, the lights and the hustle and bustle of the studio, I was a little, no, actually quite a bit intimidated by the process and of course, Antonio was quite famous and it was just a lot for a little 18 year old virgin to take in.
Franchesca: I can quite imagine how this all went down for you, at my age its a little intimidating!
Amirah: Yes, but Antonio was amazing, by the time he was ready to pop my cherry, everything had faded away and it was just Antonio and I on that bed and the orgasms were amazing! To this day, its a very pleasant memory and I really enjoy working with Antonio, and you, too Tommy, I can't forget you! I love this business and I haven't regretted a single moment.
Franchesca: Well, thank you both for being so candid with me, i can't wait to tell the entire story and you've given me some good direction in how to tell your story! I can't wait for the readers to read about such an epic defloration story!
So, who is ready for another round? Okay, okay, I get it, drinks are on me. And for all of Tommy's fans and readers, it was money well spent.
Watch full length video here : www.defloration.com
PLEASE SHARE MY BLOG!!!