How many of you have really fucked a virgin? Sure, you have probably fucked several virgins, but in the chase of your release, how many of those feelings can you really, really attach to that of fucking a virgin? She was probably nervous, you remember that. Maybe she didn't come. You remember that. Maybe she didn't know what to do to please you. You remember that. And, perhaps she just laid there, non reactive, with her legs wrapped around your hips as you powered your way to a release. I'm sure you remember that.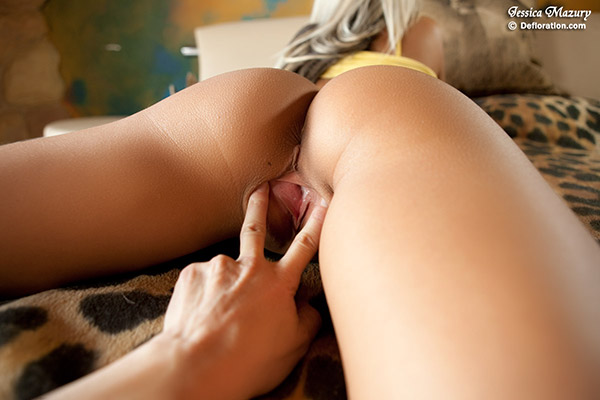 But do you remember the fine details; the ones you forgot to experience? Like the spongy feel of her hymen, just before it collapses under the strength of your hard and bulbous end? Or how about how her pussy seizes into rigidity just as you tore through her hymen?
Then how it briefly relaxes, so more of your throbbing cock slides in, deeper? Or how about the gripping spasms her pussy makes as you begin to thrust as her pussy desperately tries to prevent your throbbing cock from leaving her pussy or how it sucks your dick right back in? You probably never paid attention to those feelings, you just knew that what you were feeling was, hopefully, good.
Do you remember the beginning of her very first orgasm with your dick slamming into and out of her pussy? As her pussy begins to warm and her fluid becomes thicker and then he pussy begins to swell and her temperature warms to an almost hot temperature and you can feel her abdominal muscles begin to harden and constrict and then her pussy seizes tight and the opening of her vagina clamps down, almost threatening to cut circulation off to your dick and then the rings of muscle that line her pussy begin to milk at your throbbing cock to that instant when "a kis halal" or "la petite mort", the little death of her orgasm takes over and all time stands still until her entire body collapses, she sighs or moans, or like Franchesca screams "Oh! God" at the top of her lungs and your body has no choice but to follow suit and there is no choice as to if you are going to cum inside of her or not, you cum and you cum harder than you have ever come before or believe that you will ever cum again! Yeah, that's the feeling I'm talking about here.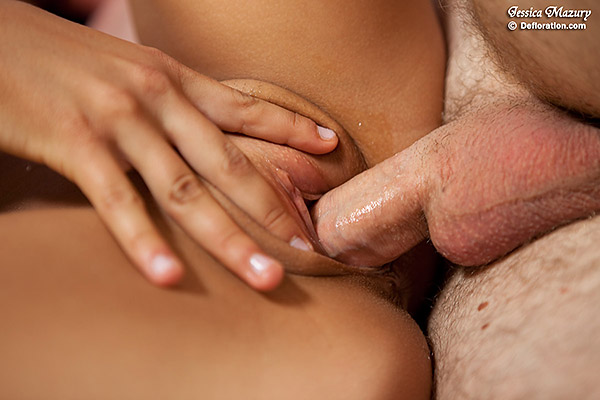 I live to feel those rare feelings. I fuck on camera to be able to come to defloration.com and have those feelings available to me, over and over again; and I live for Sergey to record this act of defloration so that you can experience through me those very same feelings over and over again.
Don't be mistaken here; every girl I fuck on camera for every other producer is an epic fuck, I wouldn't be doing this as long as I have been doing this, coming up on 19 years now, if all the girls I work with weren't amazing in and of their own rights. I've honestly lost track. When I first started and hit 100, that was a big deal, especially for such a young over-sexed stud like myself. Now, I have no idea how many women I have fucked. And to be honest, they all seem to run together. Of course I'm thrilled to find out that I have a new scene to do with a beautiful porn actress that I may or may not have fucked before; but it is these virgins, these fantastical virgins with all their fears and insecurities and foreign feelings that I live to fuck. And I appreciate the incredible opportunity that is handed to me as often as Sergey can get a virgin to fit into my busy filming schedule. And the more that happens, the happier I am.
This special feeling of taking a virgin is part of the joy of my "job". Another is that as Franchesca will sometimes tell you, is that filming a scene for defloration.com is the very start of their career as an adult entertainment actress. Franchesca estimates that over 150 of your favorite porn actresses got their start in filming their very first scene under Sergey's talented watch. Not only did the scene defloration.com produce launch her career (sadly, it wasn't always me who got the honor of taking her virginity; Alex Forte, Antonio Ross and Renato are a few of the more popular stars who had the honor of deflowering some of the girls) but you must admit that Sergey's very erotic still photography were excellent additions to their portfolios.
So, we know that you have some of your favorite virgins and I have some of mine, too. And while we will continue to bring to you all the news and stories for our current virgins, Franchesca is determined to work through the stories of all our past virgins, especially those who have gone on to become famous porn actresses, and bring to you my very best memories of them and their virgin secrets. So, if you have a special virgin you are dying to find out more about, just comment and Franchesca will do her very best to bring you every secret and every story that makes up the back story of every virgin you have enjoyed on defloration.com and every virgin you continue to enjoy. I think we shall all owe her a manicure or two by the time she finishes, but I, for one am looking forward to learning a little bit more about my virgins and how they felt about their experience at defloration.com studios and with me.
PLEASE SHARE MY BLOG.