Hey There! Thought I'd start this week off the right way; with a blog.
Sorry we were a little bit incommunicado last week. In addition to fucking, we helped Franchesca settle into a new flat and before we finished unloading the last box,she had it obsessively organized and uniquely he own. Amazing! The last time I changed flats, it took me a year to unpack and get everything put away and at least an additional year to where it felt like home. But again, Franchesca is a multi-faceted woman and it's fun as we watch her gradually peel away her layers and reveal her true being to us.
One thing we learned is that she isn't so impressed with the new male porn stars flooding the market. She announces that while they may have impressive dicks, those dicks aren't attached to what she refers to as "a real man." A real man has a body and character of substance; he's experienced life; both its joys and its sorrows and his body reflects his life's experiences.
Franchesca got me thinking about how my life has affected my body and my fucking technique. I started when I was about 21. I'm going to be 38 in July. Franchesca will be celebrating in July (though she will never reveal her age and the truth is that she is timeless) Sergey, Leslie and Renato will also celebrate in July as well. We are a company of July babies , and while we are so very much alike, we are also vey individualistic, so our artistic collaboration of our very own unique talents work together to bring you the very best in defloration video. So, I digressed in my thinking, I apologize.
When I started, about 17 years ago professionally, I was the young stud up and cumming in this industry. I took every job I was offered, even if it didn't fit me. Franchesca reminded me with such glee of the video I did when I played an Irish bloke. She still can't stop laughing over the distinct disconnect between my physical body and the character I was playing, voiced over by a genuine Irish dude. But it was a job and the actress was a really nice fuck. My body was changing and the fucker I was 17 years ago is not the fucker I am today.
Today, I work just as hard. Many directors I have worked with many times, so they know me well and getting work now is easier than it was back then and the roles are more appropriate for my body type, my maturity level an my fucking style.
But don't ever think this is easy work; it is often fun, but not easy work. When you are younger, it is easy to always be in the mood. What 20 year old stud isn't going to be in the mood 24/7 with the opportunity to fuck an amazing woman with the perfect body and perfect pussy? Certainly I was always in the mood. As you mature (and Franchesca says that this has to do with maturing as a person,not a maturing body) fucking isn't the most important thing in your life. Seriously! Kill me now if fucking isn't the most important thing in MY life! But, as usual, Franchesca is correct; fucking if fucking important; but it isn't the most important thing. Family begins to take center stage, you have to build and then maintain your home, current events affect your work, the economy throws you a curve ball and then travel schedules can become brutal. Add it all up and yep, it can be a real mood killer; even for me. Then with everything going on in your life, try fucking with a camera shoved so close up your ass to get the perfect penetration shot that you can feel the breath of the camera man. So, not mood creating; mood breaking, most certainly.
Some dudes take Viagra. Not me. If I can't get it up for a beautiful woman without the use of drugs, then I might as well be done. Sure,it might take a little more effort to get the motor running, but I do get it running and I deliver my cum quite well if I do say so myself. It has taken years of experience to not react when the lens of a camera presses up against your ass and the base of your cock. Besides, I'm a natural guy. I keep myself fit, but I don't go in for the hard body look some dudes who spend hours a day in the gym to maintain do. What you see on the screen is the real me; no fake tan,no spray painted six pack,no surgically or chemically enhanced cock; just Thomas Stone, pure and sexy.
Then there are people like Sergey who spend their weeks photographing beautiful and naked women, touching their bodies to pose them; yet always maintaining a professional distance. I don't think I could do that; if I'm touching a beautiful and naked woman, I want to I be fucking her. There are other ancillary crew members who do their job well and maintain a professional distance,too. It can't be easy.
Franchesca works hard too. She sees the results of her writing every time I take a girl's virginity. She finds it too intense to be in the room while we film. defloration.com has a basic formula and I follow that; but Franchesca takes it a step further and tells the story behind the filming. What you see and read in the blogs is a combination of every facet of filming; but I know that she has been tempted to interrupt filming and giving someone a taste of her mind.
This is not an easy industry to be in, but we have fun and make the best of every situation to bring you the very best video that sates your individual needs. We are proud of the work we do, even though we don't go out bragging about the work we do; most people outside of the adult entertainment industry would not understand and would be overly judgemental, so many of us who work in this business that we love, we work in the shadows only sharing our life with a few trusted individuals.
Hopefully this little glimpse into the life of adult entertainment industry members; both cast and ancillary employees will give you a new appreciation into the work we do that you love so much and it is providing the entertainment you enjoy so much that makes it so very worthwhile for all of us.
So, while we were working away getting Franchesca settled, Sergey related a story to us of one of our earliest virgins, Maria Aphrodite, who lost her virginity to her boyfriend instead of to me. I've seen the video and it was definitely my loss, but it was very important to her that she lose it to her boyfriend, even though it was her first scene in the business, and so, now, I turn this blog over to Sergey's memory and when you are finished here, take a walk on the wild side and venture over to virginsecrets.com where Franchesca shall share Maria's side of the story as we begin our series "Before They Were Fucking Stars".
Sergey's Memories
Thank you for allowing me to share your blog as we start our newest series "Before They Were Fucking Stars".This is a new series where we take you behind the scenes of your favorite porn superstars as they filmed their first porn scene right here in our studios at defloration.com. Franchesca has done a lot of research in the adult entertainment industry and she discovered over 150 of today's porn superstars got their start in front of my camera's.
Too be honest, I had no idea. Well, I knew that many of the videos we have made here were the first video for a girl who wanted to be a porn actress. Her agent would call me to take the first erotic pictures of a potential porn actress and if she were a virgin, her agent would inform me and we would shoot her first porn video of her losing her virginity. Sure, they would return to their agent with pictures and video in hand and the agent would take it from there. As a girl can only lose her virginity once, I never saw her again. Some girls would come to my studio and do multiple erotic shots for some spare money, others would come to lose their virginity to a professional and then there were those girls who were quite happy to sell their virginity for some expensive need like college fees, a car or even an apartment. They shot the video or pictures, collected their paycheck and they were content to have made the money they needed and be done with it.
So, imagine my surprise when Franchesca approached me telling me of a virgin who had filmed another "loss of virginity" video six months after she had lost her virginity to Tommy! Not only had Franchesca discovered this second video, she had discovered that this girl had in just a few short months a porn superstar! And that got Franchesca thinking, and as we at defloration.com have discovered, when Franchesca starts thinking, it can be a dangerous thing. Well, her research so far has discovered 150 girls who have gone on to become Porn SuperStars! Her search has discovered stars dating back to when we first began our defloration mission., so, some may no longer be on the radar, but 150 of them went on to superstardom and most are still working today! It honors me that I had the pictures and initial video that helped them get their start! So, follow along as we reveal the top 150 Porn Actress SuperStars who began their professional career, right here, losing their confirmed virginity for the only real and first time at the studios of defloration.com! We will, along with current virgins, feature their solo pictures and video, tell you who they are now(giving you their professional name) and bring you their stories as well as behind the scene memories. We know that you will enjoy our new series: "Before They Were Fucking Stars"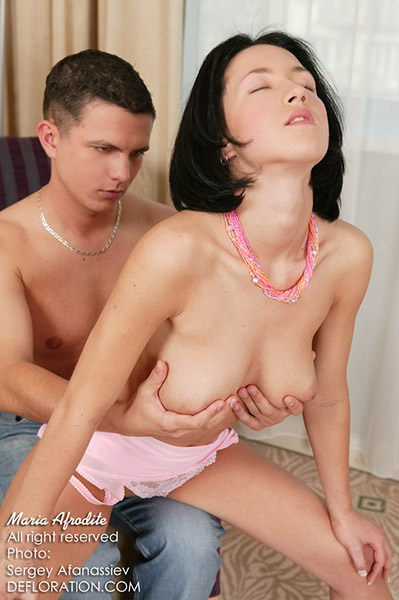 Our first virgin comes to you from our 2004 archives. You'll recognize her as Maria Aphrodite. She went on to fame as Afrodite Night and starred in movies from 2004 to about 2011 mostly in solo and lesbian scenes and her most prevalent co-star was Steve Holmes. When her agent sent her to me for her initial set of erotic stills, I had no idea she was a virgin. To my great fortune, she was a virgin! I don't remember if she had previously done a solo masturbation scene or previous non-penetrative lesbian scenes, but Maria was definitely not a stranger to her orgasm. In fact, every once in a while during her shoot, she would rub one out just because it kept her in the mood. To say that Maria loved her orgasms was an understatement and I was able to convince her to lose her virginity, in front of my camera, with only one caveat; her boyfriend had to do the deed. Normally, I don't like to honor such requests. First of all, it isn't easy to get an erection in front of another man, much less keep one and my subscribers prefer a man of "substance" shall we say?
But, Maria's boyfriend was her one requirement and I allowed it. I did not have much of a choice. It turned out to be one of the best shoots of 2004.
When Maria and her boyfriend arrived, they were ready to shoot. They did not need anything and they were eager to create a momenta of her loss of virginity. This was to become more to them than the usual audition tape of first porn shoot; it meant something special to both of them and I was eager to get started.
The still shoot went well. I got many amazing shots and there were times that they were both so turned on that I thought that he would begin taking her virginity before my video camera was ready. I need not have worried so much. Maria was very professional and if I did not know that he was her boyfriend, I would have thought he was in the adult entertainment business as well. He did make one more video with her and I'm pretty sure that was the end of their co-starring careers, so that makes my video so much more special to them and for you, our subscribers.
About half way through the still shoot, Maria called for a break. The lights were getting a little hot and we weren't even close to finishing for the day, so I agreed and we opened the windows in the studio to let some fresh air in and to enjoy the view. At one point, I was looking out the window and. Maria's boyfriend came up next to me and began to ask me questions about my photography and how I got started. He had interesting questions, I had interesting answers and in all, we had a good conversation. I stood firm in my usual stance with my legs slightly spread and my hands clasped together behind my back; my attention focused on my conversation. All of a sudden, I felt warmth near my hands and that warmth was Maria rubbing her bare and dripping wet pussy up against my hands. I was shocked! Unless I am positioning a girl for a very specific position or to display her boobs or pussy lips in a better light, I do not touch the girls. It is a matter of professionalism for me and here I was, just standing there, having a conversation with her boyfriend of all people while the girl is rubbing her pussy up against me! I'm sure I turned 50 shades of Crimson! And, her boyfriend was oblivious to what was happening. She didn't stop rubbing up against me and I was afraid she would come against my unmoving hands and fingers, she was that insistent and kept increasing her pressure against my hands, I had no choice but to pull my hands away, clear my throat and suggest that we get back to shooting.
When we started to film the defloration scene, they were both really into it. The chemistry they had was bouncing around the entire studio and it was quickly becoming a shoot that would not only leave me turned on, but my subscribers turned on as well. Then, it happened; my greatest fear: he was losing his erection. Professional fuckers know how to get an erection and keep it, even when the room is full of ancillary crew members such as lighters, audio, multiple camera men, the director, the producer, the makeup artists. That's why we use professional fuckers; they know what to do and how to do it and it is one less thing I, as the photographer, needs to worry about.
Fortunately, I keep a generous supply of Viagra in stock. Tommy refuses to use Viagra and I get that. Tommy is all natural and very professional. But sometimes, Tommy isn't available to do the defloration and other professional fuckers will use Viagra, especially if he has done more than one shoot in a day. I gave the boyfriend a viagra and in a few short minutes he was ready to go and he did an amazing job at deflowering Maria and his cum shot was nothing short of amazing.
As we begin this series of "Before They Were Fucking Stars!" I am sure that you will enjoy viewing Afrodite Night's very first porn video as Maria Aphrodite and exclusively available only on defloration.com. Any other source is pirated and will not show you the entire video or all the very erotic stills I took that day. So, if you are a subscriber, you will find her in our 2004 archives. Just enter her name, Maria Aphrodite in the search box an you will be taken to her file where you can view all her photos including up close and very personal shots of her virgin pussy and the videos of her losing her virginity, her first orgasm and of course, very hot, very sensual fucking with her boyfriend. If you aren't a subscriber and you love Afrodite Night, then by subscribing you will get an excellent video of her authentic defloration before her career took off and she became a fucking superstar. You will also have exclusive access to the very first, authentic defloration of your very favorite porn superstars, before they were fucking stars. And be sure to read today's virginssecrets.com for Maria's take on the events of that day.
Thank you Tommy for sharing your blog space with me today for a very special memory of mine.
Sergey
PLEASE SHARE MY BLOG!!!