Hey There! Sorry o take you away from viewing my latest virgin and I hope you are viewing her video at defloration.com as I can see just moments after we released Aza's video, way too many pirated sites had it up and running. I'm all for imitation being the sin rest form of flattery and all, but you do realize that if you are watching the video and you aren't a member of defloration.com and you are getting it for free, that it is piracy and if people continue to support the Pirates and watch their "free porn" that soon enough, there won't be any money to be made in porn and all the lovely videos you enjoy so much will just dry up and go away. I' m all about the free stuff, but piracy is never really free. It costs the producers, the cameramen, the make-up artists, the lighters, the set designers , the writers like Franchesca and the actors like me and Aza's in ways you would never know. Our site membership is a great value; we haven't raised our rates in years, unlike other sites you can save and download every picture and every video and you don't have to be hooked into the Internet to enjoy all your downloads. So, live a little, support your favorite porn star and your favorite site and #payforyourporn.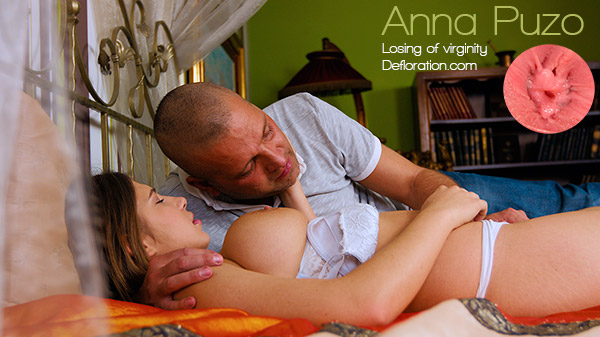 So, enough with the piracy PSA and lets get it on with my latest virgin Aza Puzo. She's a good Hungarian girl and she wants to be a porn star. Her agent sent her to us for her still shots (Sergey is the very best in the biz) and to me to take her virginity and film her first scene.
Now you all know by now, I really like thin and fit girls, with nice bouncy breasts and beautiful pink lips to wrap around my wide flaring head as I fuck her mouth pretty much in the same way I am shortly going to fuck her pussy, hard, deep and fast. Aza was fit, but she was more compact, unlike those girls with really long legs that go on for miles. Hey! I'm a tall guy and well, long legs really do it to me and a nice ass and let's not forget the breasts oh and we might as well round my perfect girl up with lips, hair I can grab in my fist and eyes that just make you want to get lost in them and never come up for air.
So, while Aza might not have been my ideal girl, she more than made up for it with her smile and her tough chick persona. I mean, what guy can resist a chick who wants to do all the guy things with you and then fuck your brains out? Oh, and did you get a look at those tits? Holy shit! They were as big as my head and I couldn't wait to get my head lost in between those two melons, not to mention my dick. They were large and firm with dark areola's the size of my mouth and that adds up to one hell of a titty fuck!
Aza was understandably a little nervous. Between the camera, the fear of pain and her discovery that I was much larger than what she expected, she was stiff; even after I had given her an orgasm. It was her very first. She'd never rubbed one out before she did the solo video (and she later admitted that while she was close during her solo video, her fear of an orgasm prevented her from actually having one). I really get into giving a girl her first orgasm; I mean it fucking turns me on to know that I am her very first in every way possible. As Aza's breathing began to quicken so did mine as I felt her pussy muscles clenching in preparation for her orgasm and as her pussy juices started to flow and the scent of her arousal reached my nose I could sense just how very wet she was and how very close she was to that release. I could feel her thigh muscles clench and release as I sucked on her nipples drawing them into hard pointy nubs and as I felt her pussy lips begin to swell, my cock is swelling in response and precum begins to leak from the cleft in my head and as my jeans tighten, I only pray that she allows her release as my pants are becoming painfully tight and my zipper is digging into my cock so hard I'm sure my cock is ingrained with zipper teeth and then, in a flash, Aza tipped over the edge and let go of the orgasm that had been building and she was beautiful to watch.
I took that opportunity of her afterglow from her orgasm to check her hymen to verify her virginity and in watching the video I noticed that Sergey managed to capture her glistening and swollen lips perfectly for your enjoyment. It was then I showed her my buddy, my magnificent cock as Franchesca talks of it. I'm big, long and thick with heavy veins and even heavier balls. Not as big as a. Monster Cock, of course, but I hold my own amongst my fuck buddies and it has served me well. Aza, once I introduced her to it, wan't so sure about this defloration scene anymore. A cock that big was not what she had signed on for which was confusing to me since it was her desire to become a porn star. A biker chick porn star, but a porn star all the same. She could not be so naive as to think that her career would be where she could pick and choose whose dick gets shoved up her twat and if it was too large she could simply refuse. I wondered how thoroughly she had thought out her career choice but I was here with a job to do an my engines were up and running and so, I took her hand and placed it over my cock. She was decidedly timid with it, her hands barely registering of my hard and pulsing length. She drew her hand up and down, too slowly and too lightly, the kind of teasing movement that causes the muscles in your abdomen to clutch and your hips to rise to meet the hand that isn't delivering enough pressure. I took her hand in mine and stroked it the length of my cock, squeezing her hand as we stroked together, hoping against all hope that soon she would grasp me firmly and send my cock and heart rate to the heavens and back. I spend a great part of everyday as a professional fucker stroking myself to keep me hard until the director clues me in that it's time for me to whack myself off on whatever body part I've been directed to cum on. I was looking forward to a virgin and her soft, untrained hand as she strokes me first, then puts me in her mouth and tastes my very essence. Aza didn't take to oral sex well either. She'll. Get, Better. I. Hope.
Anyhow, I moved on to where it was time to take her virginity. It was, after all, the reason she was here. She could not very well continue as a porn star if she remained a virgin for the rest of her career and well, oral sex for some is an acquired taste. Not for me. I took to oral sex like a newborn takes to his mother's tit. The best part of oral sex is when you have both gone down on each other and ate each other out to a rocking orgasm and then, when you come up for air and kiss with the passion to start a round of something more and you taste each other and yourself and the mix of fluids is sweet, salty and oh so heady. The scent and taste of combined passion is addicting and unique between two partners. No matter how many virgins I will have, none of them will taste the same and the combined taste of her and I will always be memorable.
It was relatively easy to take her virginity. Make no mistake, she was fucking tight and at one point right after I had entered her, that pussy of hers was close to breaking my dick off and I grimaced at the tightness, pretty sure she was feeling pretty much the same way as my dick seating balls deep in her pussy. After a while, I changed position, having her land on her belly as I entered her from behind. I'm pretty sure my crown was shaking hands with her cervix and soon she was coming around me and it was my turn to cum.
She laid on her side while she stroked my cock and soon, I felt my balls pull up sharply and I came, my cum spreading out over my belly and into my belly button. I asked her to take me in her mouth again; I wanted her to taste herself on my dick; to experience an enjoy the taste of us together. I wanted her addicted to the taste; to crave it; to want it so much that she would do anything to have that taste again. Sadly, she didn't want that and grimaced as I asked her to put me back in her mouth. She declared that the sex hurt at first, but then it was good. Then she declared putting my cock in her mouth to be disgusting. And I could just hear Franchesca's temper boiling over from her remote location. I half expected Franchesca to come barreling through the door, frying pan in hand to give my timid little nonconventional virgin a piece of her mind. Thankfully, we were all spared her famous temper that flares through her denim blue eyes when a virgin misbehaves and as the lights were turned out and we cleared the location space, Segey was already on the hunt for the next virgin.
So, Franchesca will be by in the next day or two with Aza's story and next week, we bring you new picture sets and video from our favorite teeny Sofia Saurberg who is making strides to mega-stardom as Candee Licious. I know she is a favorite of yours and of mine and she is taking the Euro Porn Scene by storm, Coming up this week, I'll be reminiscing about Sofia and you'll hear her story too and Fanchesca will bring to you the story of our next virgin in our original series, :Before They Were Fucking Stars!" I know you enjoyed catching up with Afrodite Night, AKA Maria Aphrodite and it wa a pleasure to see her video again with the unprecedented access we bring to you of life as a pornstar and what it is really like to lose your virginity and how it feels to me to take it.
Lots going on, so stay tuned, you won't want to miss a thing.
And, as a final note, have you notice the new site design; clean, elegant and subscriber friendly. Sergey and Leslie, you've done a fantastic job making defloration.com the very best site for defloration videos and the stories behind them.
Until next time; Krupp it hanging, I know I will.