Well, it is awards season. Mainstream Cinema, Television and yes, even Porn,
tis the season for awards that come in as many different shapes and sizes as the
individuals who win them. Last weekend saw my buddy Rocco Siffredi take Best
Foreign Director of The Year at the XBIZ awards and with AVN Expo in full swing,
we shall know soon enough which of our colleagues will be returning with an
award of their very own.
2016 has been declared the year of DTV by Franchesca. This year, she is busy
attending the EXPO's, meeting new people, getting new ideas and coming up with
the plan that we hope will see us at least nominations in several categories. I
quite imagine that many of you have interacted with her at these events and you
never knew just who you were talking with. She is determined to keep her
identity a secret from all, except those on a need to know basis. In a past
life, I think she worked for MI-6! Ha!
For many years, with the exception of the make-up artists and stylists,
defloration.com has been a good old boys club. It is certainly different having
a woman around on a daily basis, especially one who is not a virgin.
Franchesca has injected some new life into our daily dealings and both Sergey
and I are enjoying everything she does for us and I know that you enjoy her
stories of our virgins at virginssecrets.com. I know that we enjoy them, too!
So, Sergey and I have worked together for a very long time. I started with
defloration.com as a one-off porn actor doing a simple job of creating a scene
with a virgin. It sounded easy enough and certainly I had done "virgin" scenes
before. Imagine my surprise and delight when I discovered that the "virgin" was
actually a virgin! My first virgin went on to become known as "Sugar Baby" and
she was a sweetheart. She started in porn to accomplish some financial goals
and when she had met those, she retired. I hear that she is happy and healthy
with a family of her own and porn accomplished for her what she needed.
Here I am, 16 years later, still in porn, still taking virgins and loving every
minute of my career. I will know when it is time for me to retire, and I will
not have regretted a minute of it. You need not worry, that time is still a
long way off. Look at my buddy Rocco; he's still acting, directing and enjoying
his wife and children. He is a shining example of everything that is good in
porn (and fun, too) and I always enjoy working with him.
Sergey and I, well, he's a best bud of mine. I say that with great sincerity
because not only has he provided me with a great opportunity to take virgins on
a regular basis, he provides me with the very best virgins. I grew up being
taught by my grandmother that the best gift you can give someone is the same
gift you would covet for yourself. Sergey does that with every virgin he brings
to me.
Every virgin is more beautiful than the last. Sergey knows that if the virgin
gets his cock to twitch, then he's assured that my cock will stand up and salute
him. My first Virgin of the Year, Mirella is no exception to his high exacting
standards. God, she is beautiful isn't she? She has long, beautiful, shiny and
silky hair. It makes one just want to gather that hair up and twist it around
in your hand as you pull her hips back on your aching cock over and over and
over again.
You've seen her solo video by now, I'm sure. We released her just a little bit
earlier than we normally do because we knew you were getting excited about my
first virgin of the year and we hope you enjoyed that little early surprise when
you logged onto defloration.com yesterday.
As Sergey said, her tits are beautiful! Oh! My! God! They fit perfectly in my
hands and they had heft to them too. The tips of her nipples poke skyward and
sucking that large brown nipple into my mouth was absolute heaven! For her and
for me!
Sergey brings me the most beautiful virgins and while there are many I am sure
he would like to have his way with, he is a professional and while some
photographers make it a point to fuck their models, Sergey maintains his
professionalism at all times and saves them for me. Sometimes he has to teach
them how to bring themselves to orgasm for their solo shoot. Sometimes he has
to spread their pussy lips to get that up close and personal shot that you all
adore so much, but he never lays a hand of them and they are all mine. well,
sometimes they are Renato's, but I make it a point to be available for as many
virgins as possible.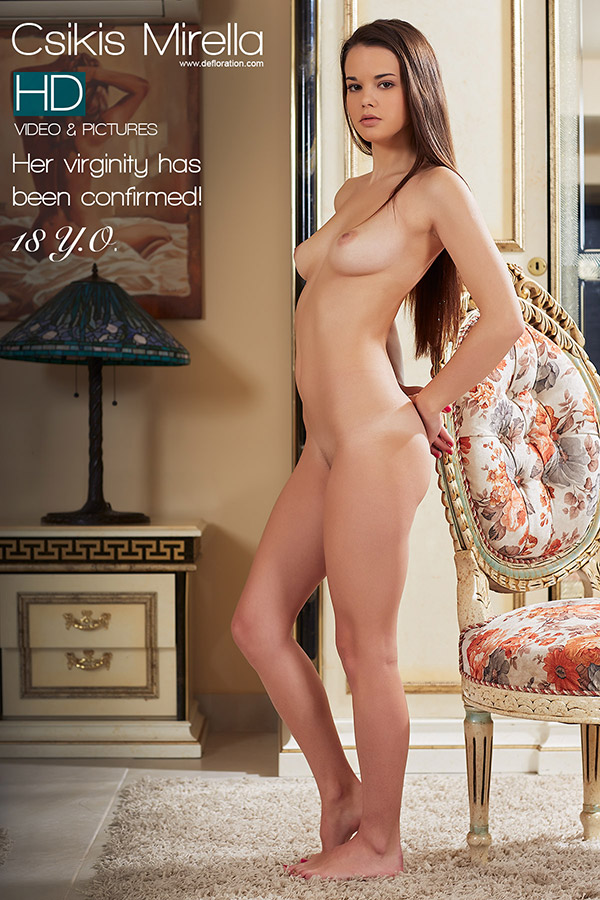 Back to Mirella. Her masturbation scenes were amazing! I loved hearing her
beautiful voice as she felt her pleasure growing and building until she could
stand it no longer and released her orgasm. I can still hear her voice as she
came over and over, like the tinkle that a chime makes blowing in the breeze.
Yes, dear clients and fans of defloration.com, 2016 is starting off and on its
way to becoming a great year for all of us here at defloration.com and as the
year progresses and we reveal more virgins and some amazing new videos for you,
I'm sire you will agree with Franchesca that 2016 is the year for
defloration.com.
So, now that I've given you a small taste of Mirella, please head on over to
virginssecrets.com where Franchesca will begin to tell you Mirella's story. I
know you are looking forward to all new and exciting stories of the secrets
nobody else but Franchesca can tell you, so show her some love and follow our
adventures and notices of new stories on twitter. I'll be back next week with
you with more award information and I'll tell you exactly how it felt to take
Mirella. Yes, 2016 is going to be a great year!